Changes After Death
---
Changes After Death. Dr. Raid Jastania. Changes After Death. Decomposition Why do we need to know: Not to misinterpret these changes Help to determine time (place) of death. Early Changes. No breathing, no circulation Fall in blood pressure Metabolism gradually stops
Presentation posted in : General
Download Presentation
Changes After Death
An Image/Link below is provided (as is) to download presentation
Download Policy: Content on the Website is provided to you AS IS for your information and personal use and may not be sold / licensed / shared on other sites. SlideServe reserves the right to change this policy at anytime.
While downloading, if for some reason you are not able to download a presentation, the publisher may have deleted the file from their server.
- - - - - - - - - - - - - - - - - - - - - - - - - - E N D - - - - - - - - - - - - - - - - - - - - - - - - - -
Presentation Transcript
---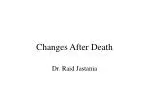 Changes After Death
Dr. Raid Jastania
---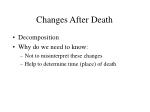 Changes After Death
Decomposition
Why do we need to know:

Not to misinterpret these changes
Help to determine time (place) of death
---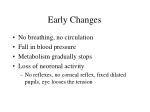 Early Changes
No breathing, no circulation
Fall in blood pressure
Metabolism gradually stops
Loss of neoronal activity

No reflexes, no corneal reflex, fixed dilated pupils, eye looses the tension
---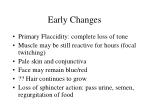 Early Changes
Primary Flaccidity: complete loss of tone
Muscle may be still reactive for hours (focal twitching)
Pale skin and conjunctiva
Face may remain blue/red
?? Hair continues to grow
Loss of sphincter action: pass urine, semen, regurgitation of food
---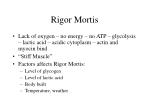 Rigor Mortis
Lack of oxygen – no energy – no ATP – glycolysis – lactic acid – acidic cytoplasm – actin and myocin bind
"Stiff Muscle"
Factors affects Rigor Mortis:

Level of glycogen
Level of lactic acid
Body built
Temperature, weather
---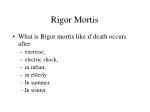 Rigor Mortis
What is Rigor mortis like if death occurs after

exercise,
electric shock,
in infant,
in elderly
In summer
In winter
---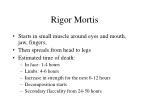 Rigor Mortis
Starts in small muscle around eyes and mouth, jaw, fingers,
Then spreads from head to legs
Estimated time of death:

In face: 1-4 hours
Limbs: 4-6 hours
Increase in strength for the next 6-12 hours
Decomposition starts
Secondary flaccidity from 24-50 hours
---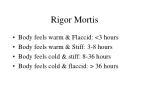 Rigor Mortis
Body feels warm & Flaccid: <3 hours
Body feels warm & Stiff: 3-8 hours
Body feels cold & stiff: 8-36 hours
Body feels cold & flaccid: > 36 hours
---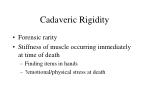 Cadaveric Rigidity
Forensic rarity
Stiffness of muscle occurring immediately at time of death

Finding items in hands
?emotional/physical stress at death
---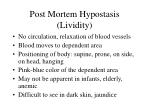 Post Mortem Hypostasis (Lividity)
No circulation, relaxation of blood vessels
Blood moves to dependent area
Positioning of body: supine, prone, on side, on head, hanging
Pink-blue color of the dependent area
May not be apparent in infants, elderly, anemic
Difficult to see in dark skin, jaundice
---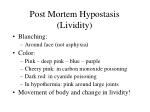 Post Mortem Hypostasis (Lividity)
Blanching:

Around face (not asphyxia)

Color:

Pink – deep pink – blue – purple
Cheery pink: in carbon monoxide poisoning
Dark red: in cyanide poisoning
In hypothermia: pink around large joints

Movement of body and change in lividity!
---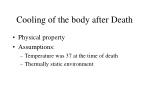 Cooling of the body after Death
Physical property
Assumptions:

Temperature was 37 at the time of death
Thermally static environment
---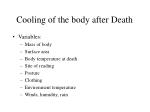 Cooling of the body after Death
Variables:

Mass of body
Surface area
Body temperature at death
Site of reading
Posture
Clothing
Environment temperature
Winds, humidity, rain
---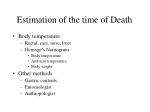 Estimation of the time of Death
Body temperature

Rectal, ears, nose, liver
Henssge's Nomogram

Body temperature
Ambient temperature
Body weight

Other methods

Gastric contents
Entomologist
Anthropologist
---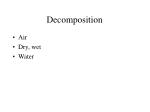 ---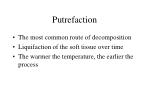 Putrefaction
The most common route of decomposition
Liquifaction of the soft tissue over time
The warmer the temperature, the earlier the process
---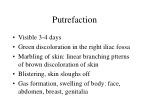 Putrefaction
Visible 3-4 days
Green discoloration in the right iliac fossa
Marbling of skin: linear branching ptterns of brown discoloration of skin
Blistering, skin sloughs off
Gas formation, swelling of body: face, abdomen, breast, genitalia
---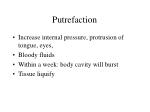 Putrefaction
Increase internal pressure, protrusion of tongue, eyes,
Bloody fluids
Within a week: body cavity will burst
Tissue liquify
---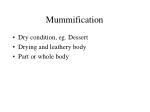 Mummification
Dry condition, eg. Dessert
Drying and leathery body
Part or whole body
---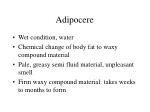 Adipocere
Wet condition, water
Chemical change of body fat to waxy compound material
Pale, greasy semi fluid material, unpleasant smell
Firm waxy compound material: takes weeks to months to form
---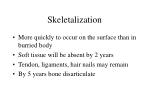 Skeletalization
More quickly to occur on the surface than in burried body
Soft tissue will be absent by 2 years
Tendon, ligaments, hair nails may remain
By 5 years bone disarticulate
---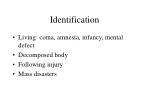 Identification
Living: coma, amnesia, infancy, mental defect
Decomposed body
Following injury
Mass disasters
---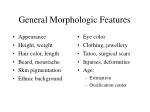 Appearance
Height, weight
Hair color, length
Beard, moustache
Skin pigmentation
Ethnic background
Eye color
Clothing, jewellery
Tatoo, surgical scars
Injuries, deformities
Age:
Estimation
Ossification center
General Morphologic Features
---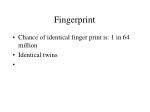 Fingerprint
Chance of identical finger print is: 1 in 64 million
Identical twins
---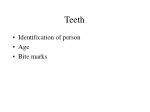 Teeth
Identification of person
Age
Bite marks
---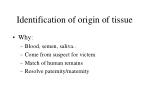 Identification of origin of tissue
Why:

Blood, semen, saliva..
Come from suspect for victem
Match of human remains
Resolve paternity/maternity
---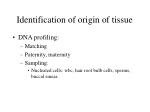 Identification of origin of tissue
DNA profiling:

Matching
Paternity, maternity
Sampling:

Nucleated cells: wbc, hair root bulb cells, sperms, buccal smear..
---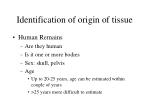 Identification of origin of tissue
Human Remains

Are they human
Is it one or more bodies
Sex: skull, pelvis
Age

Up to 20-25 years, age can be estimated within couple of years
>25 years more difficult to estimate
---