Exotic Ingredients
---
Exotic Ingredients. Greg Aldrich, PhD Pet Food & Ingredient Technology, Inc. Outline. Petfood ingredient listings: 1980's to present Premise – What constitutes an exotic ingredient Examples of exotic ingredients found in pet foods Rationale – Why are we using these ingredients
Presentation posted in : General
Download Presentation
Exotic Ingredients
An Image/Link below is provided (as is) to download presentation
Download Policy: Content on the Website is provided to you AS IS for your information and personal use and may not be sold / licensed / shared on other sites. SlideServe reserves the right to change this policy at anytime.
While downloading, if for some reason you are not able to download a presentation, the publisher may have deleted the file from their server.
- - - - - - - - - - - - - - - - - - - - - - - - - - E N D - - - - - - - - - - - - - - - - - - - - - - - - - -
Presentation Transcript
---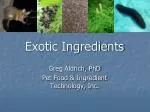 Exotic Ingredients
Greg Aldrich, PhD
Pet Food & Ingredient Technology, Inc.
---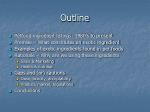 Outline
Petfood ingredient listings: 1980's to present
Premise – What constitutes an exotic ingredient
Examples of exotic ingredients found in pet foods
Rationale – Why are we using these ingredients

Sales & Marketing
Health & nutrition

Gaps and (or) cautions

Dose, toxicity, acceptability
Product, market, regulations

Conclusions
---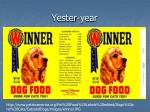 Yester-year
http://www.petsinamerica.org/Pet%20Food%20Labels%20edited/Dogs%20and%20Cats/CatsandDogs/images/winner.JPG
---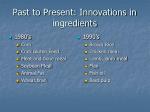 1980's
Corn
Corn Gluten Feed
Meat and bone meal
Soybean Meal
Animal Fat
Wheat bran
1990's
Brown Rice
Chicken meal
Lamb, lamb meal
Flax
Fish oil
Beet pulp
Past to Present: Innovations in ingredients
---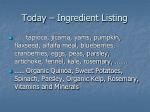 Today – Ingredient Listing
….. tapioca, jicama, yams, pumpkin, flaxseed, alfalfa meal, blueberries, cranberries, eggs, peas, parsley, artichoke, fennel, kale, rosemary, …….
….. Organic Quinoa, Sweet Potatoes, Spinach, Parsley, Organic Kelp, Rosemary, Vitamins and Minerals
---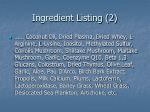 Ingredient Listing (2)
…… Coconut Oil, Dried Plasma, Dried Whey, L-Arginine, L-Lysine, Inositol, Methylated Sulfur, Coriolis Mushroom, Shiitake Mushroom, Maitake Mushroom, Garlic, Coenzyme Q10, Beta 1,3 Glucans, Colostrum, Dried Thymus, Olive Leaf, Garlic, Aloe, Pau D'Arco, Birch Bark Extract, Propolis, Milk Calcium, Plums, Lactoferrin, Lactoperoxidase, Barley Grass, Wheat Grass, Desiccated Sea Plankton, Artichoke, etc.
---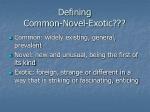 DefiningCommon-Novel-Exotic???
Common: widely existing, general, prevalent
Novel: new and unusual, being the first of its kind
Exotic: foreign, strange or different in a way that is striking or fascinating, enticing
---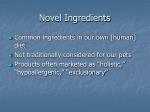 Novel Ingredients
Common ingredients in our own [human] diet
Not traditionally considered for our pets
Products often marketed as "holistic," "hypoallergenic," "exclusionary"
---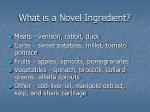 What is a Novel Ingredient?
Meats - venison, rabbit, duck
Carbs - sweet potatoes, millet, tomato pomace
Fruits - apples, apricots, pomegranates
Vegetables - spinach, broccoli, collard greens, alfalfa sprouts
Other - cod-liver oil, marigold extract, kelp, and shark cartilage
---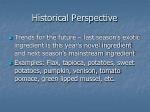 Historical Perspective
Trends for the future – last season's exotic ingredient is this year's novel ingredient and next season's mainstream ingredient
Examples: Flax, tapioca, potatoes, sweet potatoes, pumpkin, venison, tomato pomace, green lipped mussel, etc.
---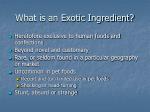 What is an Exotic Ingredient?
Heretofore exclusive to human foods and confections
Beyond novel and customary
Rare, or seldom found in a particular geography or market
Uncommon in pet foods

Recent and (or) limited use in pet foods
Shocking or head-turning

Stunt, absurd or strange
---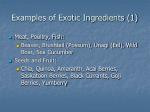 Examples of Exotic Ingredients (1)
Meat, Poultry, Fish:

Beaver, Brushtail (Possum), Unagi (Eel), Wild Boar, Sea Cucumber

Seeds and Fruit:

Chia, Quinoa, Amaranth, Acai Berries, Saskatoon Berries, Black Currants, Goji Berries, Yumberry
---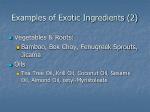 Examples of Exotic Ingredients (2)
Vegetables & Roots:

Bamboo, Bok Choy, Fenugreek Sprouts, Jicama

Oils

Tea Tree Oil, Krill Oil, Coconut Oil, Sesame Oil, Almond Oil, cetyl-Myristoleate
---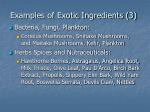 Examples of Exotic Ingredients (3)
Bacteria, Fungi, Plankton:

Coriolus Mushrooms, Shiitake Mushrooms, and Maitake Mushrooms, Kefir, Plankton

Herbs Spices and Nutraceuticals:

Hawthorne Berries, Astragalus, Angelica Root, Milk Thistle, Olive Leaf, Pau D'Arco, Birch Bark Extract, Propolis, Slippery Elm Bark, Wild Yam Root, Boswellia Serrata, Devils Claw, Nettles
---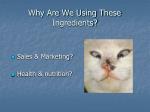 Why Are We Using These Ingredients?
Sales & Marketing?
Health & nutrition?
---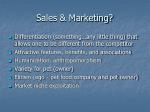 Sales & Marketing?
Differentiation (something…any little thing) that allows one to be different from the competitor
Attractive features, benefits, and associations
Humanization, anthropomorphism
Variety for pet (owner)
Elitism (ego - pet food company and pet owner)
Market niche exploitation
---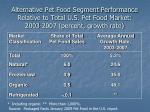 Alternative Pet Food Segment Performance Relative to Total U.S. Pet Food Market: 2003-2007 (percent, growth rate)
* Including organic. ** More than 1,000%.
Source: Packaged Facts January 2009 Pet Food in the U.S. report.
---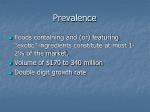 Prevalence
Foods containing and (or) featuring "exotic" ingredients constitute at most 1-2% of the market.
Volume of $170 to 340 million
Double digit growth rate
---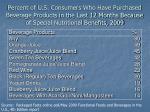 Percent of U.S. Consumers Who Have Purchased Beverage Products in the Last 12 Months Because of Special Nutritional Benefits, 2009
Source: Packaged Facts online poll/May 2009 Functional Foods and Beverages in the U.S., 4th Edition report
---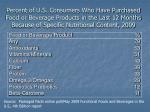 Percent of U.S. Consumers Who Have Purchased Food or Beverage Products in the Last 12 Months Because of Specific Nutritional Content, 2009
Source: Packaged Facts online poll/May 2009 Functional Foods and Beverages in the U.S., 4th Edition report
---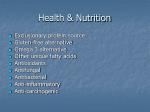 Health & Nutrition
Exclusionary protein source
Gluten-free alternative
Omega 3 alternative
Other unique fatty acids
Antioxidants
Antifungal
Antibacterial
Anti-inflammatory
Anti-carcinogenic
---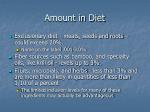 Amount in Diet
Exclusionary diet - meats, seeds and roots – could exceed 20%.

Name on the label .001-3.0%

Fiber sources such as bamboo, and specialty oils, like krill oil - levels up to 3%.
Fruits, microbials, and herbs - less than 3% and are more than likely in quantities of less than 1/10 of a percent

The limited inclusion levels for many of these ingredients may actually be advantageous
---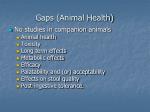 Gaps (Animal Health)
No studies in companion animals

Animal health
Toxicity
Long term effects
Metabolic effects
Efficacy
Palatability and (or) acceptability
Effects on stool quality
Post-ingestive tolerance.
---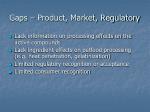 Gaps – Product, Market, Regulatory
Lack information on processing effects on the active compounds
Lack ingredient effects on petfood processing (e.g. heat penetration, gelatinization)
Limited regulatory recognition or acceptance
Limited consumer recognition
---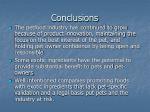 Conclusions
The petfood industry has continued to grow because of product innovation, maintaining the focus on the best interest of the pet, and holding pet owner confidence by being open and responsible
Some exotic ingredients have the potential to provide substantial benefit to pets and pet-owners
Well intentioned companies promoting foods with exotic ingredients that lack pet-specific validation and a legal basis put pets and the industry at risk.
---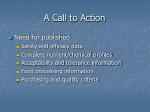 A Call to Action
Need for published

Safety and efficacy data
Complete nutrient/chemical profiles
Acceptability and tolerance information
Food processing information
Purchasing and quality criteria
---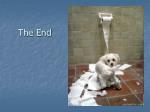 The End
---