Hurricane Ike
---
Hurricane Ike. Virginia Kennedy, RN, MS, CIC Infection Prevention & Management Associates. Pre-event. The hospital was successfully evacuated on Friday prior to the hurricane's landfall. There were no patients or staff in the hospital during the hurricane . . Pre-event.
Presentation posted in : General
Download Presentation
Hurricane Ike
An Image/Link below is provided (as is) to download presentation
Download Policy: Content on the Website is provided to you AS IS for your information and personal use and may not be sold / licensed / shared on other sites. SlideServe reserves the right to change this policy at anytime.
While downloading, if for some reason you are not able to download a presentation, the publisher may have deleted the file from their server.
- - - - - - - - - - - - - - - - - - - - - - - - - - E N D - - - - - - - - - - - - - - - - - - - - - - - - - -
Presentation Transcript
---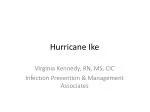 Hurricane Ike
Virginia Kennedy, RN, MS, CIC
Infection Prevention & Management Associates
---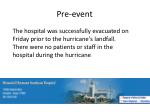 Pre-event
The hospital was successfully evacuated on Friday prior to the hurricane's landfall. There were no patients or staff in the hospital during the hurricane.
---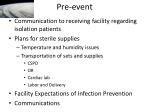 Pre-event
Communication to receiving facility regarding isolation patients
Plans for sterile supplies

Temperature and humidity issues
Transportation of sets and supplies

CSPD
OR
Cardiac lab
Labor and Delivery

Facility Expectations of Infection Prevention
Communications
---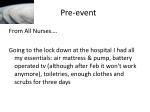 Pre-event
From All Nurses….
Going to the lock down at the hospital I had all my essentials: air mattress & pump, battery operated tv (although after Feb it won't work anymore), toiletries, enough clothes and scrubs for three days
---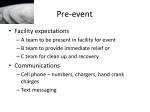 Pre-event
Facility expectations

A team to be present in facility for event
B team to provide immediate relief or
C team for clean up and recovery

Communications

Cell phone – numbers, chargers, hand crank charges
Text messaging
---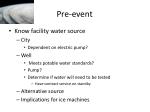 Pre-event
Know facility water source

City

Dependent on electric pump?

Well

Meets potable water standards?
Pump?
Determine if water will need to be tested

Have contract service on standby

Alternative source
Implications for ice machines
---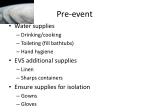 Pre-event
Water supplies

Drinking/cooking
Toileting (fill bathtubs)
Hand hygiene

EVS additional supplies
Ensure supplies for isolation
---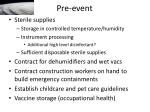 Pre-event
Sterile supplies

Storage in controlled temperature/humidity
Instrument processing

Additional high level disinfectant?

Sufficient disposable sterile supplies

Contract for dehumidifiers and wet vacs
Contract construction workers on hand to build emergency containments
Establish childcare and pet care guidelines
Vaccine storage (occupational health)
---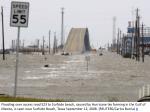 Flooding over access road 523 to Surfside beach, caused by Hurricane Ike forming in the Gulf of Mexico, is seen near Surfside Beach, Texas September 12, 2008. (REUTERS/Carlos Barria) #
---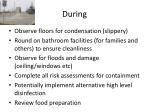 During
Observe floors for condensation (slippery)
Round on bathroom facilities (for families and others) to ensure cleanliness
Observe for floods and damage (ceiling/windows etc)
Complete all risk assessments for containment
Potentially implement alternative high level disinfection
Review food preparation
---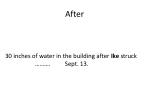 After
30 inches of water in the building after Ike struck ……….Sept. 13.
---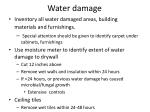 Water damage
Inventory all water damaged areas, building materials and furnishings.

Special attention should be given to identify carpet under cabinets, furnishings

Use moisture meter to identify extent of water damage to drywall

Cut 12 inches above
Remove wet walls and insulation within 24 hours
If >24 hours, or previous water damage has caused microbial/fungal growth

Ceiling tiles

Remove wet tiles within 24-48 hours
---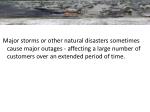 Major storms or other natural disasters sometimes cause major outages - affecting a large number of customers over an extended period of time.
---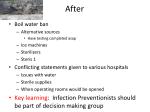 After
Boil water ban

Alternative sources

Have testing completed asap

Ice machines
Sterilizers
Steris 1

Conflicting statements given to various hospitals

Issues with water
Sterile supplies
When operating rooms would be opened

Key learning: Infection Preventionists should be part of decision making group
---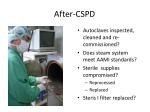 After-CSPD
Autoclaves inspected, cleaned and re-commissioned?
Does steam system meet AAMI standards?
Sterile supplies compromised?
Steris I filter replaced?
---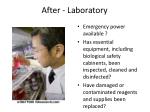 After - Laboratory
Emergency power available ?
Has essential equipment, including biological safety cabinents, been inspected, cleaned and disinfected?
Have damaged or contaminated reagents and supplies been replaced?
---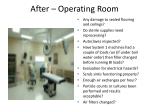 After – Operating Room
Any damage to sealed flooring and ceilings?
Do sterile supplies need reprocessing?
Autoclaves inspected?
Have System 1 machines had a couple of loads run (if under boil water order) then filler changed before running BI loads?
Evaluation for electrical hazards?
Scrub sinks functioning properly?
Enough air exchanges per hour?
Particle counts or cultures been performed and results acceptable?
Air filters changed?
---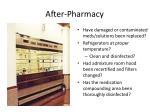 After-Pharmacy
Have damaged or contaminated meds/solutions been replaced?
Refrigerators at proper temperature?
Had admixture room hood been recertified and filters changed?
Has the medication compounding area been thoroughly disinfected?
---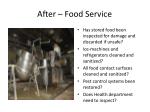 After – Food Service
Has stored food been inspected for damage and discarded if unsafe?
Ice-machines and refrigerators cleaned and sanitized?
All food contact surfaces cleaned and sanitized?
Pest control systems been restored?
Does Health department need to inspect?
---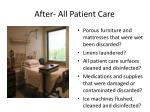 After- All Patient Care
Porous furniture and mattresses that were wet been discarded?
Linens laundered?
All patient care surfaces cleaned and disinfected?
Medications and supplies that were damaged or contaminated discarded?
Ice machines flushed, cleaned and disinfected?
---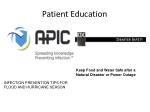 Patient Education
Keep Food and Water Safe after a Natural Disaster or Power Outage
INFECTION PREVENTION TIPS FOR FLOOD AND HURRICANE SEASON
---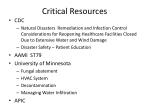 Critical Resources
CDC

Natural Disasters Remediation and Infection Control Considerations for Reopening Healthcare Facilities Closed Due to Extensive Water and Wind Damage
Disaster Safety – Patient Education

AAMI ST79
University of Minnesota

Fungal abatement
HVAC System
Decontamination
Managing Water Infiltration

APIC
---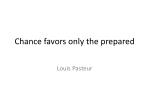 Chance favors only the prepared
Louis Pasteur
---