Summary judgment/JMOL & New Trial
---
Summary judgment/JMOL & New Trial. April 2. In analyzing a s/j motion, be sure you understand:. 1. The essential elements of the claim or defense; 2. Who is the movant (burden of production differs). Burden of Production.
Presentation posted in : General
Download Presentation
Summary judgment/JMOL & New Trial
An Image/Link below is provided (as is) to download presentation
Download Policy: Content on the Website is provided to you AS IS for your information and personal use and may not be sold / licensed / shared on other sites. SlideServe reserves the right to change this policy at anytime.
While downloading, if for some reason you are not able to download a presentation, the publisher may have deleted the file from their server.
- - - - - - - - - - - - - - - - - - - - - - - - - - E N D - - - - - - - - - - - - - - - - - - - - - - - - - -
Presentation Transcript
---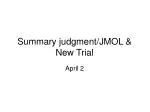 Summary judgment/JMOL & New Trial
April 2
---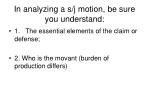 In analyzing a s/j motion, be sure you understand:
1. The essential elements of the claim or defense;
2. Who is the movant (burden of production differs)
---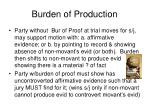 Burden of Production
Party without Bur of Proof at trial moves for s/j, may support motion with: a. affirmative evidence; or b. by pointing to record & showing absence of non-movant's evid (or both). Burden then shifts to non-movant to produce evid showing there is a material ? of fact
Party w/burden of proof must show has uncontroverted affirmative evidence such that a jury MUST find for it; (wins s/j only if non-movant cannot produce evid to controvert movant's evid)
---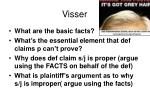 Visser
What are the basic facts?
What's theessential element that def claims p can't prove?
Why does def claim s/j is proper (argue using the FACTS on behalf of the def)
What is plaintiff's argument as to why s/j is improper( argue using the facts)
---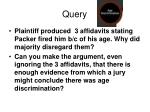 Query
Plaintiff produced 3 affidavits stating Packer fired him b/c of his age. Why did majority disregard them?
Can you make the argument, even ignoring the 3 affidavits, that there is enough evidence from which a jury might conclude there was age discrimination?
---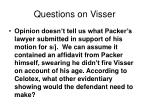 Questions on Visser
Opinion doesn't tell us what Packer's lawyer submitted in support of his motion for s/j. We can assume it contained an affidavit from Packer himself, swearing he didn't fire Visser on account of his age. According to Celotex, what other evidentiary showing would the defendant need to make?
---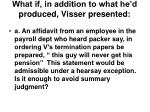 What if, in addition to what he'd produced, Visser presented:
a. An affidavit from an employee in the payroll dept who heard packer say, in ordering V's termination papers be prepared, " this guy will never get his pension" This statement would be admissible under a hearsay exception. Is it enough to avoid summary judgment?
---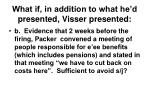 What if, in addition to what he'd presented, Visser presented:
b. Evidence that 2 weeks before the firing, Packer convened a meeting of people responsible for e'ee benefits (which includes pensions) and stated in that meeting "we have to cut back on costs here". Sufficient to avoid s/j?
---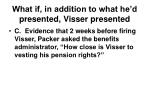 What if, in addition to what he'd presented, Visser presented
C. Evidence that 2 weeks before firing Visser, Packer asked the benefits administrator, "How close is Visser to vesting his pension rights?"
---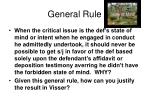 General Rule
When the critical issue is the def's state of mind or intent when he engaged in conduct he admittedly undertook, it should never be possible to get s/j in favor of the def based solely upon the defendant's affidavit or deposition testimony averring he didn't have the forbidden state of mind. WHY?
Given this general rule, how can you justify the result in Visser?
---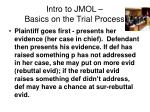 Intro to JMOL – Basics on the Trial Process
Plaintiff goes first - presents her evidence (her case in chief). Defendant then presents his evidence. If def has raised something p has not addressed in her case, she may put on more evid (rebuttal evid); if the rebuttal evid raises something def didn't address, def may have a chance at sur-rebuttal evid.
---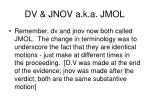 DV & JNOV a.k.a. JMOL
Remember, dv and jnov now both called JMOL. The change in terminology was to underscore the fact that they are identical motions - just make at different times in the proceeding. [D.V was made at the end of the evidence; jnov was made after the verdict; both are the same substantive motion]
---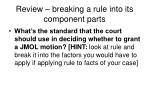 Review – breaking a rule into its component parts
What's the standard that the court should use in deciding whether to grant a JMOL motion? [HINT: look at rule and break it into the factors you would have to apply if applying rule to facts of your case]
---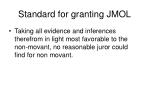 Standard for granting JMOL
Taking all evidence and inferences therefrom in light most favorable to the non-movant, no reasonable juror could find for non movant.
---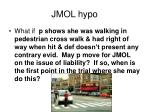 JMOL hypo
What if p shows she was walking in pedestrian cross walk & had right of way when hit & def doesn't present any contrary evid. May p move for JMOL on the issue of liability? If so, when is the first point in the trial where she may do this?
---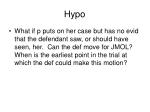 Hypo
What if p puts on her case but has no evid that the defendant saw, or should have seen, her. Can the def move for JMOL? When is the earliest point in the trial at which the def could make this motion?
---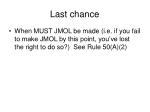 Last chance
When MUST JMOL be made (i.e. if you fail to make JMOL by this point, you've lost the right to do so?) See Rule 50(A)(2)
---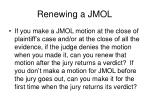 Renewing a JMOL
If you make a JMOL motion at the close of plaintiff's case and/or at the close of all the evidence, if the judge denies the motion when you made it, can you renew that motion after the jury returns a verdict? If you don't make a motion for JMOL before the jury goes out, can you make it for the first time when the jury returns its verdict?
---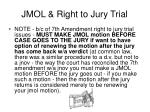 JMOL & Right to Jury Trial
NOTE - b/c of 7th Amendment right to jury trial issues - MUST MAKE JMOL motion BEFORE CASE GOES TO THE JURY if want to have option of renewing the motion after the jury has come back w/a verdict (at common law, there was a similar procedure to a d.v. but not to a jnov - the way the court has reconciled the 7th amendment w/a jnov you must make a JMOL motion BEFORE the jury goes out - if you make such a motion - then the motion after the jury returns is considered merely to be renewing your jmol motion).
---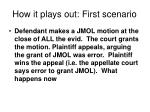 How it plays out: First scenario
Defendant makes a JMOL motion at the close of ALL the evid. The court grants the motion. Plaintiff appeals, arguing the grant of JMOL was error. Plaintiff wins the appeal (i.e. the appellate court says error to grant JMOL). What happens now
---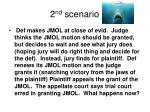 2nd scenario
Def makes JMOL at close of evid. Judge thinks the JMOL motion should be granted, but decides to wait and see what jury does (hoping jury will do right thing and decide for the def). Instead, jury finds for plaintiff. Def renews its JMOL motion and the judge grants it (snatching victory from the jaws of the plaintiff) Plaintiff appeals the grant of the JMOL. The appellate court says trial court erred in granting JMOL. What happens now?
---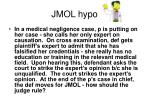 JMOL hypo
In a medical negligence case, p is putting on her case - she calls her only expert on causation. On cross examination, def gets plaintiff's expert to admit that she has falsified her credentials - she really has no education or training in the relevant medical field. Upon hearing this, defendant asks the court to strike the expert's opinion b/c she is unqualified. The court strikes the expert's opinion. At the end of the p's case in chief, the def moves for JMOL - how should the judge rule?
---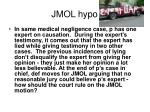 JMOL hypo
In same medical negligence case, p has one expert on causation. During the expert's testimony, it comes out that the expert has lied while giving testimony in two other cases. The previous incidences of lying don't disqualify the expert from giving her opinion - they just make her opinion a lot less believable. At the end of p's case in chief, def moves for JMOL arguing that no reasonable jury could believe p's expert - how should the court rule on the JMOL motion?
---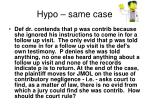 Hypo – same case
Def dr. contends that p was contrib because she ignored his instructions to come in for a follow up visit. The only evid that p was told to come in for a follow up visit is the def's own testimony. P denies she was told anything, no one else heard anything about a follow up visit and none of the records indicate p is to return. At the end of the case, the plaintiff moves for JMOL on the issue of contributory negligence - i.e. - asks court to find, as a matter of law, there is no evid from which a jury could find she was contrib. How should the court rule?
---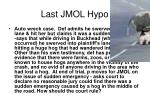 Last JMOL Hypo
Auto wreck case. Def admits he swerved into p's lane & hit her but claims it was a sudden emergency -says that while driving in Buckhead (where wreck occurred) he swerved into plaintiff's lane to avoid hitting a huge hog that had wandered into the road. Other than his own testimony, def has presented no evidence that there were farms, zoos, or other places known to house hogs anywhere in the vicinity of the crash, and no evid of anyone driving in the area who had lost a hog. At end of trial, p moves for JMOL on the issue of sudden emergency - asks court to declare no reasonable jury could find there was a sudden emergency caused by a hog in the middle of the road. How should the court rule?
---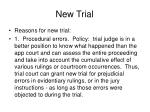 New Trial
Reasons for new trial:
1. Procedural errors. Policy: trial judge is in a better position to know what happened than the app court and can assess the entire proceeding and take into account the cumulative effect of various rulings or courtroom occurrences. Thus, trial court can grant new trial for prejudicial errors in evidentiary rulings, or in the jury instructions - as long as those errors were objected to during the trial.
---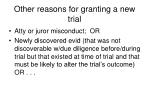 Other reasons for granting a new trial
Atty or juror misconduct; OR
Newly discovered evid (that was not discoverable w/due diligence before/during trial but that existed at time of trial and that must be likely to alter the trial's outcome) OR . . .
---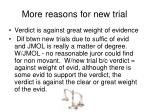 More reasons for new trial
Verdict is against great weight of evidence
Dif btwn new trials due to suffic of evid and JMOL is really a matter of degree. W/JMOL - no reasonable juror could find for non movant. W/new trial b/c verdict = against weight of evid, although there is some evid to support the verdict, the verdict is against the clear or great weight of the evid.
---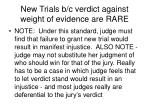 New Trials b/c verdict against weight of evidence are RARE
NOTE: Under this standard, judge must find that failure to grant new trial would result in manifest injustice. ALSO NOTE - judge may not substitute her judgment of who should win for that of the jury. Really has to be a case in which judge feels that to let verdict stand would result in an injustice - and most judges really are deferential to the jury's verdict
---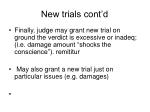 New trials cont'd
Finally, judge may grant new trial on ground the verdict is excessive or inadeq; (i.e. damage amount "shocks the conscience"). remititur
May also grant a new trial just on particular issues (e.g. damages)
---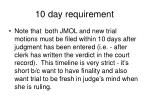 10 day requirement
Note that both JMOL and new trial motions must be filed within 10 days after judgment has been entered (i.e. - after clerk has written the verdict in the court record). This timeline is very strict - it's short b/c want to have finality and also want trial to be fresh in judge's mind when she is ruling.
---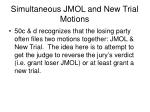 Simultaneous JMOL and New Trial Motions
50c & d recognizes that the losing party often files two motions together: JMOL & New Trial. The idea here is to attempt to get the judge to reverse the jury's verdict (i.e. grant loser JMOL) or at least grant a new trial.
---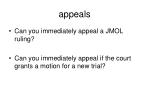 appeals
Can you immediately appeal a JMOL ruling?
Can you immediately appeal if the court grants a motion for a new trial?
---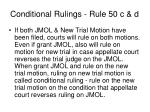 Conditional Rulings - Rule 50 c & d
If both JMOL & New Trial Motion have been filed, courts will rule on both motions. Even if grant JMOL, also will rule on motion for new trial in case appellate court reverses the trial judge on the JMOL. When grant JMOL and rule on the new trial motion, ruling on new trial motion is called conditional ruling - rule on the new trial motion on the condition that appellate court reverses ruling on JMOL.
---