Fostering Academic Integrity in Online Courses - Larry MacPhee, CTELJoyce...
---
Is cheating inevitable?Why do students cheat?Why is it my problem?. 3 General Questions. . Why do they do it?. Easy to get away withInsufficient timeA friend needed helpPassing grade is vitalEveryone else is doing itNobody cares if I cheatCourse is too hardTeacher is unfairCourse is useles
Download Presentation
Fostering Academic Integrity in Online Courses
An Image/Link below is provided (as is) to download presentation
Download Policy: Content on the Website is provided to you AS IS for your information and personal use only and may not be sold or licensed nor shared on other sites. SlideServe reserves the right to change this policy at anytime.
While downloading, If for some reason you are not able to download a presentation, the publisher may have deleted the file from their server.
- - - - - - - - - - - - - - - - - - - - - - - - - - E N D - - - - - - - - - - - - - - - - - - - - - - - - - -
Presentation Transcript
---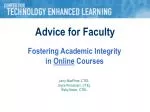 Fostering Academic Integrityin Online Courses
Advice for Faculty
Larry MacPhee, CTEL
Joyce Kincannon, CTEL
Wally Nolan, CTEL
---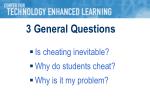 Is cheating inevitable?
Why do students cheat?
Why is it my problem?
3 General Questions
---
Easy to get away with
Insufficient time
A friend needed help
Passing grade is vital
Everyone else is doing it
Nobody cares if I cheat
Course is too hard
Teacher is unfair
Course is useless.
Why do they do it?
---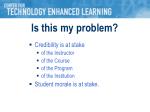 Credibility is at stake
of the Instructor
of the Course
of the Program
of the Institution
Student morale is at stake.
Is this my problem?
---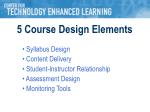 5 Course Design Elements
Syllabus Design
Content Delivery
Student-Instructor Relationship
Assessment Design
Monitoring Tools
---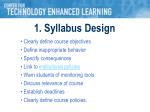 1. Syllabus Design
Clearly define course objectives
Define inappropriate behavior
Specify consequences
Link to institutional policies
Warn students of monitoring tools
Discuss relevance of course
Establish deadlines
Clearly define course policies.
---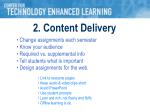 2. Content Delivery
Change assignments each semester
Know your audience
Required vs. supplemental info
Tell students what is important
Design assignments for the web.
Link to resource pages
Keep audio & video clips short
Avoid PowerPoint
Use student prompts
Lean and rich, not flashy and fluffy
Offline learning is ok.
---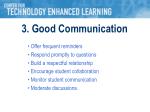 3. Good Communication
Offer frequent reminders
Respond promptly to questions
Build a respectful relationship
Encourage student collaboration
Monitor student communication
Moderate discussions.
---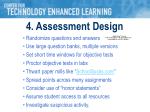 4. Assessment Design
Randomize questions and answers
Use large question banks, multiple versions
Set short time windows for objective tests
Proctor objective tests in labs
Thwart paper mills like "SchoolSucks.com"
Spread points across many assignments
Consider use of "honor statements"
Assume student access to all resources
Investigate suspicious activity.
---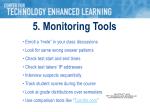 5. Monitoring Tools
Enroll a "mole" in your class discussions
Look for same wrong answer patterns
Check test start and end times
Check test takers' IP addresses
Interview suspects sequentially
Track student scores during the course
Look at grade distributions over semesters
Use comparison tools like "TurnItIn.com"
---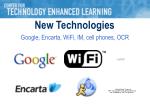 Google, Encarta, WiFi, IM, cell phones, OCR
New Technologies
---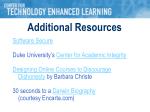 Software Secure
Duke University's Center for Academic Integrity
Designing Online Courses to Discourage Dishonesty by Barbara Christe
30 seconds to a Darwin Biography (courtesy Encarta.com)
Additional Resources
---