By:Nisrina Hanifah Afnan
---
Rpoint anak SDI al-azhar 11 surabaya
Download Presentation
karya anak
An Image/Link below is provided (as is) to download presentation
Download Policy: Content on the Website is provided to you AS IS for your information and personal use only and may not be sold or licensed nor shared on other sites. SlideServe reserves the right to change this policy at anytime.
While downloading, If for some reason you are not able to download a presentation, the publisher may have deleted the file from their server.
- - - - - - - - - - - - - - - - - - - - - - - - - - E N D - - - - - - - - - - - - - - - - - - - - - - - - - -
Presentation Transcript
---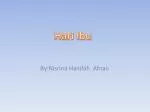 Hari Ibu
By:Nisrina Hanifah Afnan
---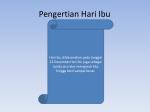 Pengertian Hari Ibu
Hari ibu dilaksanakan pada tanggal 22 Desember.Hari ibu juga sebagai tanda jasa atas mengasuh kita hingga kecil sampai besar.
---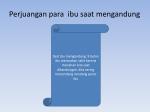 Perjuangan para ibu saat mengandung
Saat ibu mengandung 9 bulan ibu merasakan sakit karena menahan kita saat dikandungan. kita sering menendang nendang perut ibu
---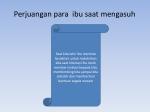 Perjuangan para ibu saat mengasuh
Saat kita lahir ibu meronta kesakitan untuk melahirkan kita.saat kita bayi ibu telah memberi makan kepada kita. membimbing kita sampai kita sekolah dan memberikan bantuan segala macam
---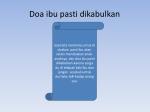 Doa ibu pasti dikabulkan
Saat kita meminta untuk di doakan pasti ibu akan selalu mendoakan anak-anaknya dan doa ibu pasti dikabulkan.karena surga itu di telapak kaki ibu dan jangan sesekali untuk durhaka te4rhadap orang tua.
---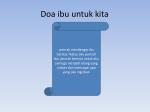 Doa ibu untuk kita
pernah mendengar ibu berdoa ?kalau aku pernah ibiu pernah bernoa untuk aku semoga menjadi orang yang sukses dan mencapai apa yang aku inginkan
---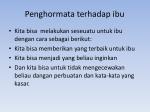 Penghormata terhadap ibu
Kita bisa melakukan seseuatu untuk ibu dengan cara sebagai berikut:
Kita bisa memberikan yang terbaik untuk ibu
Kita bisa menjadi yang beliau inginkan
Dan kita bisa untuk tidak mengecewakan beliau dangan perbuatan dan kata-kata yang kasar.
---