HYPERTEXT and HYPERMEDIA - By Steven Geist and Larnic Ransom
---
Hypertext. Hypertext is a system of storing images, text, and other computer files that allows direct links to related text, images, sound, and other data.Hypertext is the main basis of operation for the web.. It is an information database or medium that links verbal and nonverbal information on t
Download Presentation
HYPERTEXT and HYPERMEDIA
An Image/Link below is provided (as is) to download presentation
Download Policy: Content on the Website is provided to you AS IS for your information and personal use only and may not be sold or licensed nor shared on other sites. SlideServe reserves the right to change this policy at anytime.
While downloading, If for some reason you are not able to download a presentation, the publisher may have deleted the file from their server.
- - - - - - - - - - - - - - - - - - - - - - - - - - E N D - - - - - - - - - - - - - - - - - - - - - - - - - -
Presentation Transcript
---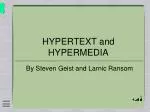 HYPERTEXT and HYPERMEDIA
By Steven Geist and Larnic Ransom
---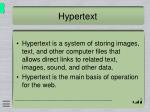 Hypertext
Hypertext is a system of storing images, text, and other computer files that allows direct links to related text, images, sound, and other data.
Hypertext is the main basis of operation for the web.
---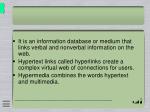 It is an information database or medium that links verbal and nonverbal information on the web.
Hypertext links called hyperlinks create a complex virtual web of connections for users.
Hypermedia combines the words hypertext and multimedia.
---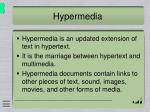 Hypermedia
Hypermedia is an updated extension of text in hypertext.
It is the marriage between hypertext and multimedia.
Hypermedia documents contain links to other pieces of text, sound, images, movies, and other forms of media.
---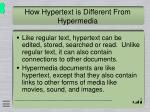 How Hypertext is Different From Hypermedia
Like regular text, hypertext can be edited, stored, searched or read. Unlike regular text, it can also contain connections to other documents.
Hypermedia documents are like hypertext, except that they also contain links to other forms of media like movies, sound, and images.
---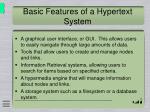 Basic Features of a Hypertext System
A graphical user interface, or GUI. This allows users to easily navigate through large amounts of data.
Tools that allow users to create and manage nodes and links.
Information Retrieval systems, allowing users to search for items based on specified criteria.
A hypermedia engine that will manage information about nodes and links.
A storage system such as a filesystem or a database system.
---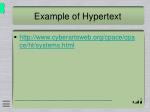 Example of Hypertext
http://www.cyberartsweb.org/cpace/cpace/ht/systems.html
---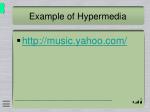 ---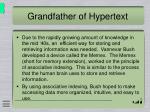 Grandfather of Hypertext
Due to the rapidly growing amount of knowledge in the mid '40s, an efficient way for storing and retrieving information was needed. Vannevar Bush developed a device called the Memex. The Memex (short for memory extension), worked on the principle of associative indexing. This is similar to the process that the human brain uses to store and retrieve information.
By using associative indexing, Bush hoped to make accessing data more organized, intuitive, and easy to use.
---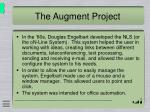 The Augment Project
In the '60s, Douglas Engelbart developed the NLS (or the oN-Line System). This system helped the user in working with ideas, creating links between different documents, teleconferencing, text processing, sending and receiving e-mail, and allowed the user to configure the system to his needs.
In order to allow the user to easily manage the system, Engelbart made use of a mouse and a window manager. This allowed users to point and click.
The system was intended for office automation.
---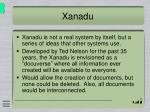 Xanadu
Xanadu is not a real system by itself, but a series of ideas that other systems use.
Developed by Ted Nelson for the past 35 years, the Xanadu is envisioned as a "docuverse" where all information ever created will be available to everyone.
Would allow the creation of documents, but none could be deleted. Also, all documents would be interconnected.
---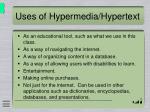 Uses of Hypermedia/Hypertext
As an educational tool, such as what we use in this class.
As a way of navigating the internet.
A way of organizing content in a database.
As a way of allowing users with disabilities to learn.
Entertainment.
Making online purchases.
Not just for the internet. Can be used in other applications such as dictionaries, encyclopedias, databases, and presentations.
---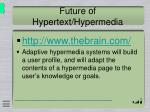 Future of Hypertext/Hypermedia
http://www.thebrain.com/
Adaptive hypermedia systems will build a user profile, and will adapt the contents of a hypermedia page to the user's knowledge or goals.
---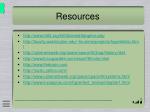 Resources
http://www.ht04.org/ht04tutorialAdaptive.php
http://faculty.washington.edu/~krumme/projects/hyperbiblio.html
http://cyberartsweb.org/cpace/cpace/ht/jhup/history.html
http://www.linuxgazette.com/issue78/holm.html
http://www.thebrain.com
http://music.yahoo.com/
http://www.cyberartsweb.org/cpace/cpace/ht/systems.html
http://www.e-papyrus.com/hypertext_review/chapter1.html
---