CHAPTER 16 MUSCULAR DYSTROPHY AND JUVENILE RHEUMATOID ARTHRITIS (JRA)
---
CHAPTER 16 MUSCULAR DYSTROPHY AND JUVENILE RHEUMATOID ARTHRITIS (JRA). MUSCULAR DYSTROPHY ( ADD THE CASE STUDY FROM PAGE 237 HERE.).
Presentation posted in : General
Download Presentation
CHAPTER 16 MUSCULAR DYSTROPHY AND JUVENILE RHEUMATOID ARTHRITIS (JRA)
An Image/Link below is provided (as is) to download presentation
Download Policy: Content on the Website is provided to you AS IS for your information and personal use and may not be sold / licensed / shared on other sites. SlideServe reserves the right to change this policy at anytime.
While downloading, if for some reason you are not able to download a presentation, the publisher may have deleted the file from their server.
- - - - - - - - - - - - - - - - - - - - - - - - - - E N D - - - - - - - - - - - - - - - - - - - - - - - - - -
Presentation Transcript
---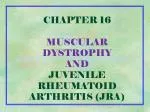 CHAPTER 16MUSCULAR DYSTROPHYANDJUVENILE RHEUMATOID ARTHRITIS (JRA)
---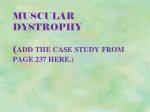 MUSCULAR DYSTROPHY(ADD THE CASE STUDY FROM PAGE 237 HERE.)
---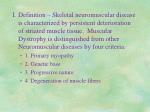 I.Definition – Skeletal neuromuscular disease is characterized by persistent deterioration of striated muscle tissue. Muscular Dystrophy is distinguished from other Neuromuscular diseases by four criteria:
1. Primary myopathy
2. Genetic base
3. Progressive nature
4. Degeneration of muscle fibers
---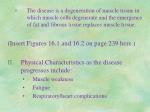 Physical Characteristics as the disease progresses include:
Muscle weakness
Fatigue
Respiratory/heart complications
---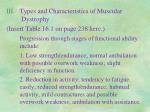 Types and Characteristics of Muscular Dystrophy

(Insert Table 16.1 on page 238 here.)

Progression through stages of functional ability include:

1. Low strength/endurance; normal ambulation with possible overwork weakness; slight deficiency in function.

2. Reduction in activity; tendency to fatigue easily; reduced strength/endurance; habitual activity, mild contractures and possible overwork weakness; ambulation with assistance.
---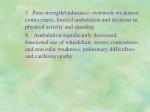 3. Poor strength/endurance; overwork weakness; contractures; limited ambulation and decrease in physical activity and standing.
4. Ambulation significantly decreased; functional use of wheelchair; severe contractures and muscular weakness; pulmonary difficulties and cardiomyopathy.
---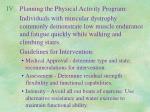 Planning the Physical Activity Program:

Individuals with muscular dystrophy commonly demonstrate low muscle endurance and fatigue quickly while walking and climbing stairs.

Guidelines for Intervention:

Medical Approval - determine type and state; recommendations for intervention.
Assessment - Determine residual strength flexibility and functional capabilities.
Intensity - Avoid all out bouts of exercise. Use alternative resistance and water exercise to maintain functional ability.
---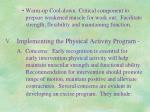 Warm-up Cool-down: Critical component to prepare weakened muscle for work out. Facilitate strength, flexibility and maintaining function.
Implementing the Physical Activity Program -

A. Concerns:Early recognition is essential for early intervention physical activity will help maintain muscular strength and functional ability. Recommendation for intervention should promote range of motion, maintain positive and alleviate contractures. Several concerns are evident in developing an excise program. They include:
---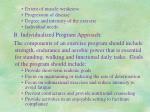 Extent of muscle weakness
Progression of disease
Degree and intensity of the exercise
Individual needs

B. Individualized Program Approach:

The components of an exercise program should include strength, endurance and aerobic power that is essential for standing, walking and functional daily tasks. Goals of the program should include:

Provide short-term realistic goals
Focus on maintaining or reducing the rate of deterioration
Focus on submaximal exercises and reduce intensity to avoid fatigue
Prevent contractures and provide nutritional counseling
Provide activities in an enjoyable setting to facilitate compliance
---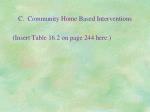 C. Community Home Based Interventions
(Insert Table 16.2 on page 244 here.)
---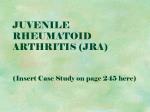 JUVENILE RHEUMATOID ARTHRITIS (JRA)(Insert Case Study on page 245 here)
---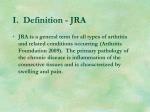 I. Definition - JRA
JRA is a general term for all types of arthritis and related conditions occurring (Arthritis Foundation 2009). The primary pathology of the chronic disease is inflammation of the connective tissues and is characterized by swelling and pain.
---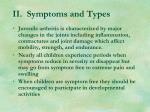 II. Symptoms and Types
Juvenile arthritis is characterized by major changes in the joints including inflammation, contractures and joint damage which affect mobility, strength, and endurance.
Nearly all children experience periods when symptoms reduce in severity or disappear but may go from symptom free to extreme pain and swelling
When children are symptom free they should be encouraged to participate in developmental activities
---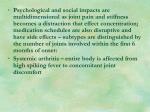 Psychological and social impacts are multidimensional as joint pain and stiffness becomes a distraction that effect concentration; medication schedules are also disruptive and have side effects – subtypes are distinguished by the number of joints involved within the first 6 months of onset:
Systemic arthritis – entire body is affected from high spiking fever to concomitant joint discomfort
---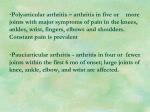 Polyarticular arthritis – arthritis in five or more joints with major symptoms of pain in the knees, ankles, wrist, fingers, elbows and shoulders. Constant pain is prevalent
Pauciarticular arthritis - arthritis in four or fewer joints within the first 6 mo of onset; large joints of knee, ankle, elbow, and wrist are affected.
---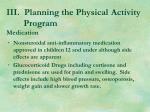 III. Planning the Physical Activity ProgramMedication
Nonsteroidal anti-inflammatory medication approved in children 12 and under although side effects are apparent
Glucocorticoid Drugs including cortisone and prednisone are used for pain and swelling. Side effects include high blood pressure, osteoporosis, weight gain and slower growth rate.
---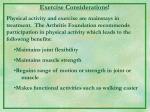 Exercise Considerations!
Physical activity and exercise are mainstays in treatment. The Arthritis Foundation recommends participation in physical activity which leads to the following benefits:

Maintains joint flexibility
Maintains muscle strength
Regains range of motion or strength in joint or muscle
Makes functional activities such as walking easier
---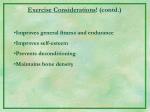 Exercise Considerations! (contd.)

Improves general fitness and endurance
Improves self-esteem
Prevents deconditioning
Maintains bone density
---
IV. IMPLEMENTING THE PHYSICAL ACTIVITY PROGRAM
Input is needed from the collaborative team and alleviating stress on their joints on joint protection. The Arthritis Foundation recommends 3 types of exercises:
Flexibility exercises for joint movement
Strengthening exercise including isometric and isotonic exercise to support and protect joints
Cardiovascular exercise to control weight and maintain functional ability
Add Table 16.3 from page 249 here.
---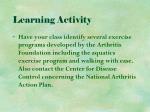 Learning Activity
Have your class identify several exercise programs developed by the Arthritis Foundation including the aquatics exercise program and walking with ease. Also contact the Center for Disease Control concerning the National Arthritis Action Plan.
---