Diario Reflexivo
---
Diario Reflexivo. El diario reflexivo es una tcnica de assessment, a travs de la cual, los estudiantes tienen la oportunidad de efectuar una reflexin diaria o por actividad de la clase o taller, sobre su desempeo, el de sus compaeros de trabajo y el del maestro. . Diario Reflexivo. La oportun
Download Presentation
Diario Reflexivo
An Image/Link below is provided (as is) to download presentation
Download Policy: Content on the Website is provided to you AS IS for your information and personal use only and may not be sold or licensed nor shared on other sites. SlideServe reserves the right to change this policy at anytime.
While downloading, If for some reason you are not able to download a presentation, the publisher may have deleted the file from their server.
- - - - - - - - - - - - - - - - - - - - - - - - - - E N D - - - - - - - - - - - - - - - - - - - - - - - - - -
Presentation Transcript
---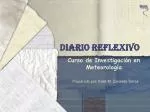 Diario Reflexivo
Curso de Investigación en Meteorología
Preparado por: Keila M. Zavaleta Torres
---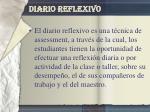 Diario Reflexivo
El diario reflexivo es una técnica de assessment, a través de la cual, los estudiantes tienen la oportunidad de efectuar una reflexión diaria o por actividad de la clase o taller, sobre su desempeño, el de sus compañeros de trabajo y el del maestro.
---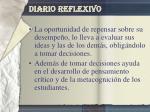 DiarioReflexivo
La oportunidad de repensar sobre su desempeño, lo lleva a evaluar sus ideas y las de los demás, obligándolo a tomar decisiones.
Además de tomar decisiones ayuda en el desarrollo de pensamiento crítico y de la metacognición de los estudiantes.
---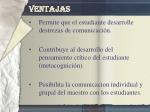 Ventajas
Permite que el estudiante desarrolle destrezas de comunicación.
Contribuye al desarrollo del pensamiento crítico del estudiante (metacognición).
Posibilita la comunicacion individual y grupal del maestro con los estudiantes.
---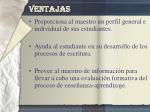 Ventajas
Proporciona al maestro un perfil general e individual de sus estudiantes.
Ayuda al estudiante en su desarrollo de los procesos de escritura.
Provee al maestro de información para llevar a cabo una evaluación formativa del proceso de enseñanza-aprendizaje.
---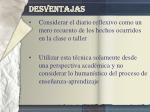 Desventajas
Considerar el diario reflexivo como un mero recuento de los hechos ocurridos en la clase o taller
Utilizar esta técnica solamente desde una perspectiva académica y no considerar lo humanístico del proceso de enseñanza-aprendizaje
---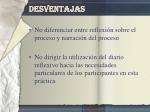 Desventajas
No diferenciar entre reflexión sobre el proceso y narración del proceso
No dirigir la utilización del diario reflexivo hacia las necesidades particulares de los participantes en esta práctica
---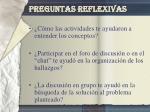 Preguntas Reflexivas
¿Cómo las actividades te ayudaron a entender los conceptos?
¿Participar en el foro de discusión o en el "chat" te ayudó en la organización de los hallazgos?
¿La discusión en grupo te ayudó en la búsqueda de la solución al problema planteado?
---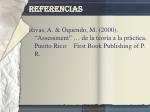 Referencias
Rivas, A. & Oquendo, M. (2000). "Assessment" … de la teoría a la práctica. Puerto Rico: First Book Publishing of P. R.
---