Know about DEVELOPMENTALLY APPROPRIATE PRACTICE FOR EARLY CHILDHOOD PROGRAM
---
Essential Questions: . What is developmentally appropriate practice?What factors should be considered when planning developmentally appropriate curricula? . Developmentally appropriate practice is based on: . John Dewey\'s vision of schools preparing students to think and reason for a democratic so
Download Presentation
DEVELOPMENTALLY APPROPRIATE PRACTICE FOR EARLY CHILDHOOD PROGRAMS
An Image/Link below is provided (as is) to download presentation
Download Policy: Content on the Website is provided to you AS IS for your information and personal use only and may not be sold or licensed nor shared on other sites. SlideServe reserves the right to change this policy at anytime.
While downloading, If for some reason you are not able to download a presentation, the publisher may have deleted the file from their server.
- - - - - - - - - - - - - - - - - - - - - - - - - - E N D - - - - - - - - - - - - - - - - - - - - - - - - - -
Presentation Transcript
---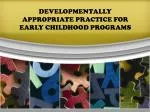 DEVELOPMENTALLY APPROPRIATE PRACTICE FOR EARLY CHILDHOOD PROGRAMS
---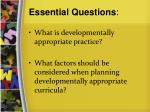 Essential Questions:
What is developmentally appropriate practice?
What factors should be considered when planning developmentally appropriate curricula?
---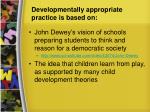 Developmentally appropriate practice is based on:
John Dewey's vision of schools preparing students to think and reason for a democratic society

http://www.schooltube.com/video/43074/John-Dewey

The idea that children learn from play, as supported by many child development theories
---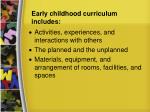 Early childhood curriculum includes:
Activities, experiences, and interactions with others
The planned and the unplanned
Materials, equipment, and arrangement of rooms, facilities, and spaces
---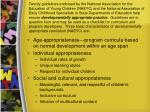 Twenty guidelines endorsed by the National Association for the Education of Young Children (NAEYC) and the National Association of Early Childhood Specialists in State Departments of Education help ensuredevelopmentally appropriate practice. Guidelines are in question form and may be used as a checklist for curriculum and program developers. Three basic characteristics of developmentally appropriate curriculum (NAEYC) are:
Age-appropriateness---program curricula based on normal development within an age span
Individual appropriateness

Individual rates of growth
Unique learning styles
Respect for individual children

Social and cultural appropriateness

Meaningful, relevant, and respectful of children's backgrounds
Inclusive curriculum
Infusion of multicultural content
---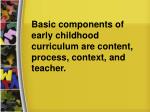 Basic components of early childhood curriculum are content, process, context, and teacher.
---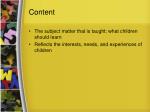 Content
The subject matter that is taught; what children should learn
Reflects the interests, needs, and experiences of children
---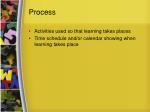 Process
Activities used so that learning takes places
Time schedule and/or calendar showing when learning takes place
---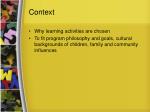 Context
Why learning activities are chosen
To fit program philosophy and goals, cultural backgrounds of children, family and community influences
---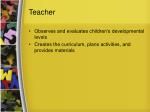 Teacher
Observes and evaluates children's developmental levels
Creates the curriculum, plans activities, and provides materials
---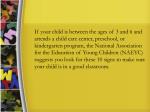 If your child is between the ages of 3 and 6 and attends a child care center, preschool, or kindergarten program, the National Association for the Education of Young Children (NAEYC) suggests you look for these 10 signs to make sure your child is in a good classroom.
---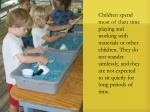 Children spend most of their time playing and working with materials or other children. They do not wander aimlessly, and they are not expected to sit quietly for long periods of time.
---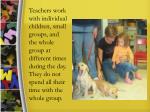 Teachers work with individual children, small groups, and the whole group at different times during the day. They do not spend all their time with the whole group.
---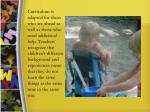 Curriculum is adapted for those who are ahead as well as those who need additional help. Teachers recognize that children's different background and experiences mean that they do not learn the same things at the same time in the same way.
---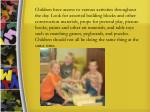 Children have access to various activities throughout the day. Look for assorted building blocks and other construction materials, props for pretend play, picture books, paints and other art materials, and table toys such as matching games, pegboards, and puzzles. Children should not all be doing the same thing at the same time.
---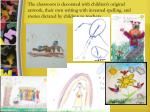 The classroom is decorated with children's original artwork, their own writing with invented spelling, and stories dictated by children to teachers.
---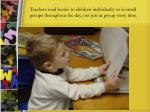 Teachers read books to children individually or in small groups throughout the day, not just at group story time.
---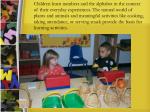 Children learn numbers and the alphabet in the context of their everyday experiences. The natural world of plants and animals and meaningful activities like cooking, taking attendance, or serving snack provide the basis for learning activities.
---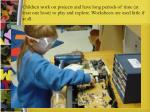 Children work on projects and have long periods of time (at least one hour) to play and explore. Worksheets are used little if at all.
---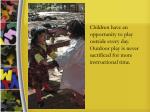 Children have an opportunity to play outside every day. Outdoor play is never sacrificed for more instructional time.
---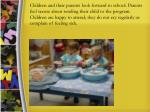 Children and their parents look forward to school. Parents feel secure about sending their child to the program. Children are happy to attend; they do not cry regularly or complain of feeling sick.
---