Commercial Drivers License - PowerPoint Slides
---
A. Any combination of vehicles with a Gross Combination Weight Rating (GCWR) of 26,001 or more pounds provided the Gross Vehicle Weight Rating (GVWR) of the vehicle(s) being towed is in excess of 10,000 pounds. (Holders of a Class A license may also, with any appropriate endorsements, operate all
Download Presentation
Commercial Drivers License
An Image/Link below is provided (as is) to download presentation
Download Policy: Content on the Website is provided to you AS IS for your information and personal use only and may not be sold or licensed nor shared on other sites. SlideServe reserves the right to change this policy at anytime.
While downloading, If for some reason you are not able to download a presentation, the publisher may have deleted the file from their server.
- - - - - - - - - - - - - - - - - - - - - - - - - - E N D - - - - - - - - - - - - - - - - - - - - - - - - - -
Presentation Transcript
---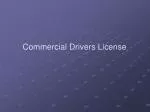 Commercial Drivers License
---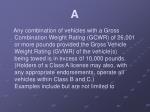 A
Any combination of vehicles with a Gross Combination Weight Rating (GCWR) of 26,001or more pounds provided the Gross Vehicle Weight Rating (GVWR) of the vehicle(s)being towed is in excess of 10,000 pounds. (Holders of a Class A license may also, withany appropriate endorsements, operate all vehicles within Class B and C.)Examples include but are not limited to
:
---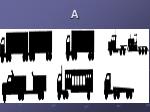 A
---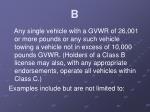 B
Any single vehicle with a GVWR of 26,001 or more pounds or any such vehicle towing a vehicle not in excess of 10,000 pounds GVWR. (Holders of a Class B license may also, with any appropriate endorsements, operate all vehicles within Class C.)
Examples include but are not limited to:
---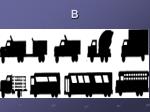 B
---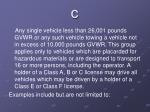 C
Any single vehicle less than 26,001 pounds GVWR or any such vehicle towing a vehicle not in excess of 10,000 pounds GVWR. This group applies only to vehicles which are placarded for hazardous materials or are designed to transport 16 or more persons, including the operator. A holder of a Class A, B or C license may drive all vehicles which may be driven by a holder of a Class E or Class F license.
Examples include but are not limited to:
---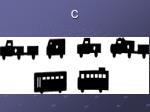 C
---
---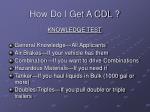 How Do I Get A CDL ?
KNOWLEDGE TEST
General Knowledge—All Applicants
Air Brakes—If your vehicle has them
Combination—If you want to drive Combinations
Hazardous Materials—If you need it
Tanker—If you haul liquids in Bulk (1000 gal or more)
Doubles/Triples—If you pull double or triple trailers
---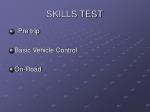 SKILLS TEST
Pre trip
Basic Vehicle Control
On-Road
---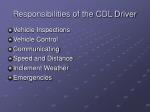 Responsibilities of the CDL Driver
Vehicle Inspections
Vehicle Control
Communicating
Speed and Distance
Inclement Weather
Emergencies
---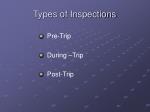 Types of Inspections
Pre-Trip
During –Trip
Post-Trip
---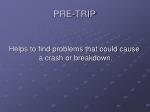 PRE-TRIP
Helps to find problems that could cause a crash or breakdown.
---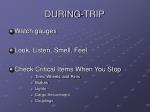 DURING-TRIP
Watch gauges
Look, Listen, Smell, Feel
Check Critical Items When You Stop

Tires, Wheels, and Rims
Brakes
Lights
Cargo Securement
Couplings
---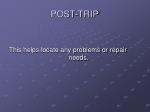 POST-TRIP
This helps locate any problems or repair needs.
---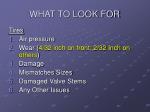 WHAT TO LOOK FOR
Tires
Air pressure
Wear (4/32 inch on front; 2/32 Inch on others)
Damage
Mismatches Sizes
Damaged Valve Stems
Any Other Issues
---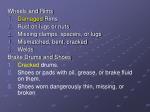 Wheels and Rims
Damaged Rims
Rust on lugs or nuts
Missing clamps, spacers, or lugs
Mismatched, bent, cracked
Welds

Brake Drums and Shoes

Cracked drums.
Shoes or pads with oil, grease, or brake fluid on them.
Shoes worn dangerously thin, missing, or broken
---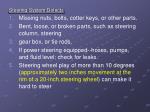 SteeringSystem Defects
Missing nuts, bolts, cotter keys, or other parts.
Bent, loose, or broken parts, such as steering column, steering
gear box, or tie rods.
If power steering equipped--hoses, pumps, and fluid level; check for leaks.
Steering wheel play of more than 10 degrees (approximately two inches movement at therim of a 20-inch steering wheel) can make it hard to steer
---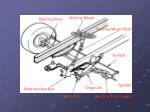 Steering Wheel
Steering Arms
Steering Wheel Shaft
Tie Rod
Spindle
Drag Link
Steering Gear Box
Pitman Arm
Steering Ring Knuckle
---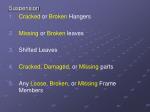 Suspension
Cracked or Broken Hangers
Missing or Broken leaves
Shifted Leaves
Cracked, Damaged, or Missing parts
Any Loose, Broken, or Missing Frame Members
---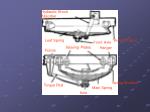 Hydraulic Shock
Absorber
Leaf Spring
FrontAxle
VehicleFrame
BearingPlates
Hanger
Frame
Spring Shackle
Torque Rod
Main Spring
Axle
---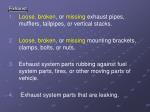 Exhaust
Loose, broken, or missing exhaust pipes, mufflers, tailpipes, or vertical stacks.
Loose, broken, or missing mounting brackets, clamps, bolts, or nuts.
Exhaust system parts rubbing against fuel system parts, tires, or other moving parts of vehicle.
Exhaust system parts that are leaking.
---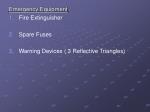 Emergency Equipment
Fire Extinguisher
Spare Fuses
Warning Devices ( 3 Reflective Triangles)
---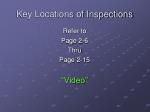 Key Locations of Inspections
Refer to
Page 2-6
Thru
Page 2-15
"Video"
---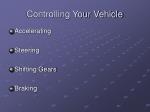 Controlling Your Vehicle
Accelerating
Steering
Shifting Gears
Braking
---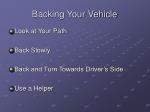 Backing Your Vehicle
Look at Your Path
Back Slowly
Back and Turn Towards Driver's Side
Use a Helper
---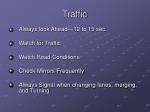 Traffic
Always look Ahead—12 to 15 sec.
Watch for Traffic
Watch Road Conditions
Check Mirrors Frequently
Always Signal when changing lanes, merging, and Turning
---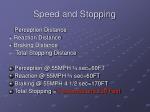 Speed and Stopping
Perception Distance
+ Reaction Distance
+ Braking Distance
= Total Stopping Distance
Perception @ 55MPH ¾ sec=60FT
Reaction @ 55MPH ¾ sec=60FT
Braking @ 55MPH 4 1/2 sec=170FT
Total Stopping = 6 seconds and 290 Feet
---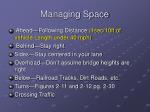 Managing Space
Ahead—Following Distance (1sec/10ft of vehicle Length under 40 mph)
Behind—Stay right
Sides—Stay centered in your lane
Overhead—Don't assume bridge heights are right
Below—Railroad Tracks, Dirt Roads, etc.
Turns—Figures 2-11 and 2-12 pg. 2-30
Crossing Traffic
---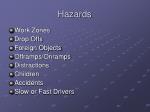 Hazards
Work Zones
Drop Offs
Foreign Objects
Offramps/Onramps
Distractions
Children
Accidents
Slow or Fast Drivers
---
Emergencies
ALWAYS HAVE A PLAN
If an Accident Occurs:
Protect the area
Notify Authorities
Care for the injured
---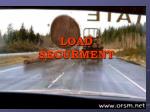 ---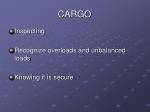 CARGO
Inspecting
Recognize overloads and unbalanced loads
Knowing it is secure
---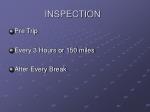 INSPECTION
Pre Trip
Every 3 Hours or 150 miles
After Every Break
---
DEFINITIONS
Gross Vehicle Weight (GVW)
Gross Combination Weight (GCW)
Gross Vehicle Weight Rating (GVWR)
Gross Combination Weight Rating (GCWR)
Axle Weight
Tire Load
Suspension System
Coupling Device Capacity

Pg. 3-2
---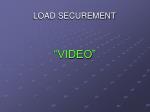 ---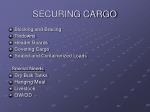 SECURING CARGO
Blocking and Bracing
Tiedowns
Header Boards
Covering Cargo
Sealed and Containerized Loads

Special Needs

Dry Bulk Tanks
Hanging Meat
Livestock
OW/OD
---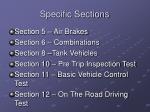 Specific Sections
Section 5 – Air Brakes
Section 6 – Combinations
Section 8 –Tank Vehicles
Section 10 – Pre Trip Inspection Test
Section 11 – Basic Vehicle Control Test
Section 12 – On The Road Driving Test
---