Gary Ridgway - The Green River Serial Killer
---
Background. Gary Ridgway began his criminal career in Washington, 1982. He is known for strangling young runaways and prostitutes after bringing them back to this house.People refer to him as the Green River killer for one reason, his first five murders that he committed were thrown and found in t
Download Presentation
Gary Ridgway
An Image/Link below is provided (as is) to download presentation
Download Policy: Content on the Website is provided to you AS IS for your information and personal use only and may not be sold or licensed nor shared on other sites. SlideServe reserves the right to change this policy at anytime.
While downloading, If for some reason you are not able to download a presentation, the publisher may have deleted the file from their server.
- - - - - - - - - - - - - - - - - - - - - - - - - - E N D - - - - - - - - - - - - - - - - - - - - - - - - - -
Presentation Transcript
---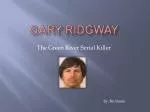 Gary Ridgway
The Green River Serial Killer
By: Bri Steele
---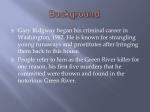 Background
Gary Ridgway began his criminal career in Washington, 1982. He is known for strangling young runaways and prostitutes after bringing them back to this house.
People refer to him as the Green River killer for one reason, his first five murders that he committed were thrown and found in the notorious Green River.
---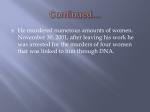 Continued…
He murdered numerous amounts of women. November 30, 2001, after leaving his work he was arrested for the murders of four women that was linked to him through DNA.
---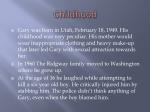 Childhood
Gary was born in Utah, February 18, 1949. His childhood was very peculiar. His mother would wear inappropriate clothing and heavy make-up that later led Gary with sexual attraction towards her.
In 1960 The Ridgway family moved to Washington where he grew up.
At the age of 16 he laughed while attempting to kill a six year old boy. He critically injured him by stabbing him. The police didn't think anything of Gary, even when the boy blamed him.
---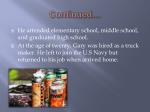 Continued…
He attended elementary school, middle school, and graduated high school.
At the age of twenty, Gary was hired as a truck maker. He left to join the U.S Navy but returned to his job when arrived home.
---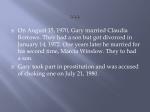 …
On August 15, 1970, Gary married Claudia Borrows. They had a son but got divorced in January 14, 1972. One years later he married for his second time, Marcia Winslow. They to had a son.
Gary took part in prostitution and was accused of choking one on July 21, 1980.
---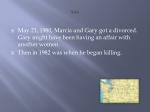 …
May 21, 1980, Marcia and Gary got a divorced. Gary might have been having an affair with another women.
Then in 1982 was when he began killing.
---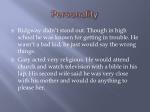 Personality
Ridgway didn't stand out. Though in high school he was known for getting in trouble. He wasn't a bad kid, he just would say the wrong things.
Gary acted very religious. He would attend church and watch television with a bible in his lap. His second wife said he was very close with his mother and would do anything to please her.
---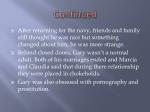 Continued
After returning for the navy, friends and family still thought he was nice but something changed about him, he was more strange.
Behind closed doors, Gary wasn't a normal adult. Both of his marriages ended and Marcia and Claudia said that during there relationship they were placed in chokeholds.
Gary was also obsessed with pornography and prostitution.
---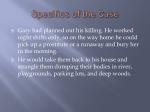 Specifics of the Case
Gary had planned out his killing. He worked night shifts only, so on the way home he could pick up a prostitute or a runaway and bury her in the morning.
He would take them back to his house and strangle them dumping their bodies in river, playgrounds, parking lots, and deep woods.
---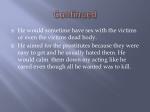 Continued
He would sometime have sex with the victims or even the victims dead body.
He aimed for the prostitutes because they were easy to get and he usually hated them. He would calm them down my acting like he cared even though all he wanted was to kill.
---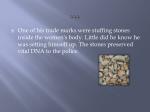 …
One of his trade marks were stuffing stones inside the women's body. Little did he know he was setting himself up. The stones preserved vital DNA to the police.
---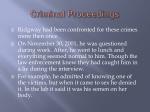 Criminal Proceedings
Ridgway had been confronted for these crimes more then once.
On November 30, 2001, he was questioned during work. After, he went to lunch and everything seemed normal to him. Though the law enforcement knew they had caught him in a lie during the interview.
For example, he admitted of knowing one of the victims, but when it came to sex he denied it. In the lab it said it was his semen on her body.
---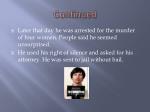 Continued
Later that day he was arrested for the murder of four women. People said he seemed unsurprised.
He used his right of silence and asked for his attorney. He was sent to jail without bail.
---
…
In April 2003, Gary confessed to killing 48 women. Later he confessed to killing 65 women in order to get a life sentence instead of the death penalty. He is now in a cell spending the rest of his life.
---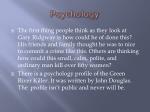 Psychology
The first thing people think as they look at Gary Ridgway is how could he of done this? His friends and family thought he was to nice to commit a crime like this. Others are thinking how could this small, calm, polite, and ordinary man kill over fifty women?
There is a psychology profile of the Green River Killer. It was written by John Douglas. The profile isn't public and never will be.
---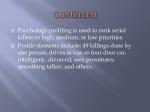 Continued
Psychology profiling is used to rank serial killers in high, medium, or low priorities.
Profile elements include: 49 killings done by one person, drives in van or four door car, intelligent, divorced, sees prostitutes, smoothing talker, and others.
---
Reaction
This project was very interesting. Reading and studying about serial killers can actually be very helpful. For example, you can not trust any strangers. Gary Ridgway looks like a nice charming guy but really is a man who thrives off of killing women.
Gary Ridgway was a typical serial killer. He strangled women and would dump there bodiesmostly anywhere.
---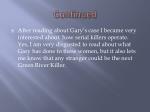 Continued
After reading about Gary's case I became very interested about how serial killers operate. Yes, I am very disgusted to read about what Gary has done to these women, but it also lets me know that any stranger could be the next Green River Killer.
---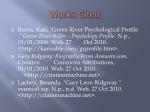 Works Cited
Burns, Kari. "Green River Psychological Profile ." Green River Killer - Psychology Profile. N.p., 01/01/2006. Web. 27 Oct 2010. <http://karisable.com/grprofile.htm>.
Gary Ridgway: Biography From Answers.com. Creative Commons Attributions, 01/01/2010. Web. 27 Oct 2010. <http://citationmachine.net>.
Lachey, Breanda. "Gary Leon Ridgway." maamodt.asp. N.p., n.d. Web. 27 Oct 2010. <http://citationmachine.net>.
---
---