National Panchayat Portal ( http://panchayat.nic.in )
---
National Panchayat Portal ( http://panchayat.nic.in ). Managing Content for Local Governance. Background. 73 rd Amendment Act enacted in 1992 to enhance the democratic set up by establishing the third-tier of the government, the Panchayati Raj Insitutions (PRIs)
Presentation posted in : General
Download Presentation
National Panchayat Portal ( http://panchayat.nic.in )
An Image/Link below is provided (as is) to download presentation
Download Policy: Content on the Website is provided to you AS IS for your information and personal use and may not be sold / licensed / shared on other sites. SlideServe reserves the right to change this policy at anytime.
While downloading, if for some reason you are not able to download a presentation, the publisher may have deleted the file from their server.
- - - - - - - - - - - - - - - - - - - - - - - - - - E N D - - - - - - - - - - - - - - - - - - - - - - - - - -
Presentation Transcript
---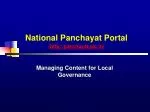 National Panchayat Portal(http://panchayat.nic.in)
Managing Content for Local Governance
---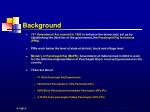 Background
73rd Amendment Act enacted in 1992 to enhance the democratic set up by establishing the third-tier of the government, the Panchayati Raj Insitutions (PRIs)
PRIs work below the level of state at district, block and village level
Ministry of Panchayati Raj (MoPR), Government of India formed in 2004 to work for the effective implementation of Panchayati Raj or local self governance in the country
There are about

31 State Panchayat Raj Departments
536 District Panchayats or Zilla Parishads (ZPs)
6096 Block Panchayats/Intermediate Panchayats (BPs/IPs)
2,40,000 Gram panchayats/Village Panchayats (GPs/VPs)
---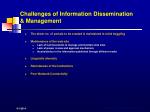 Challenges of Information Dissemination & Management
The sheer no. of portals to be created & maintained is mind boggling
Maintenance of the web site

Lack of technical skills to manage and maintain web sites
Lack of proper review and approval mechanism,
Inconsistency in the information published through different media

Linguistic diversity
Remoteness of the institutions
Poor Network Connectivity
---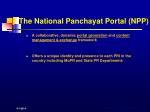 The National Panchayat Portal (NPP)
A collaborative, dynamic portal generation and content management & exchange framework
Offers a unique identity and presence to each PRI in the country including MoPR and State PR Departments
---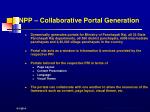 NPP – Collaborative Portal Generation
Dynamically generates portals for Ministry of Panchayati Raj, all 35 State Panchayati Raj departments, all 560 district panchayats, 6096 intermediate panchayats and 2,40,000 village panchayats in the country
Portal site acts as a window to information & services provided by the respective PRI
Portals tailored for the respective PRI in terms of

Page Layout
Content Presentation
Language
Visual Theme

The portals can collaborate with one another to share the resources of the framework such as content, page layout, visual theme, etc.
---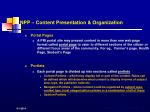 NPP – Content Presentation & Organization
Portal Pages

A PRI portal site may present content in more than one web page format called portal page to cater to different sections of the citizen or different focus areas of the community. For eg., Farmer's page, Health Page, Student's Page

Portlets

Each portal page is divided up into sections called portlets

Content Portlets – which may display full or part of the content. Rules can be defined which will determine what content to display in terms of subject area, type, the publisher node etc.
Navigation Portlets – where content could be organized by subject area, content type, local categorization scheme or a combination of all of these
Opinion Portlets
---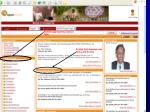 Portlet organized by Content Type
Portlet that displays only News and Events
---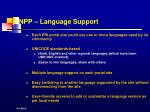 NPP – Language Support
Each PRI portal site could use one or more languages used by its community
UNICODE standards-based

Hindi, English and other regional languages (which have been UNICODE enabled)
Easier to mix languages, share with others

Multiple language support on each portal site
Easy switching to another language supported by the site without disconnecting from the site
User-friendly screens to add or customize a language version as per local needs
---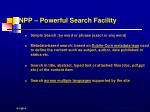 NPP – Powerful Search Facility
Simple Search: by word or phrase (exact or any word)
Metadata-based search: based on Dublin-Core metadata tags used to define the content such as subject, author, date published or status etc.
Search in title, abstract, typed text or attached files (doc, pdf,ppt etc.) of the content item
Search across multiple languages supported by the site
---
NPP – Visual Themes
A visual theme defines the colour scheme, header images, logos etc.
Each PRI can define its own theme
The theme for a PRI portal site can be set simply by selecting a theme for the site
PRIs can exchange themes amongst themselves
---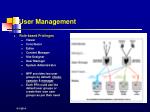 User Management
Role-based Privileges

Viewer
Contributor
Editor
Content Manager
Site Designer
User Manager
System Administrator
NPP provides two user groups by default: citizen, operator & manager
Each PRI could use the default user groups or create their own user groups as per their need
---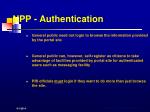 NPP - Authentication
General public need not login to browse the information provided by the portal site
General public can, however, self-register as citizens to take advantage of facilities provided by portal site for authenticated users such as messaging facility
PRI officials must login if they want to do more than just browse the site.
---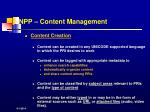 NPP – Content Management
Content Creation

Content can be created in any UNICODE supported language in which the PRI desires to work
Content can be tagged with appropriate metadata to

enhance search capabilities
Automatically organize content
and share content among PRIs

Content can be classified by subject areas relevant to PRIs and the type of content
Content may be either typed in or may be in the form of external sources such as URL or attached files (audio, video files).
---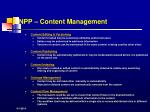 NPP – Content Management
Content Editing & Versioning

Content created may be selectively edited by authorized users
Editors may be authorized to add more information
Versions of content can be maintained (if the same content is being used by other sites)

Content Publishing

Content may be automatically published or may be moderated/reviewed before it is published on the portal site

Content Indexing

Any newly created or edited content is automatically indexed to enable easy searching, sharing and organizing of content

Garbage Management

Content may be archived either manually or automatically
Rejected or deleted content are auotmatically removed from the system

Content Flow Management

The framework could be set up to ensure that content flows in the desired fashion
Different users can contribute different information to the content
The workflow itself may be defined within a single site or across distributed sites in different systems
---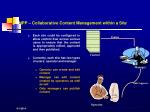 NPP – Collaborative Content Management within a Site
Each site could be configured to allow content flow across various users to ensure that the content is appropriately edited, approved and then published.
Currently, each site has two types of users: operator and manager

Operator can create and edit content
Manager can edit content created by operators as well as self
Only managers can publish content
Publish
Content
Manager
Edit/ Approve
Operator
---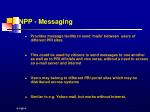 NPP - Messaging
Provides message facility to send 'mails' between users of different PRI sites.
This could be used by citizens to send messages to one another as well as to PRI officials and vice versa, without a need to access an e-mail server and Internet
Users may belong to different PRI portal sites which may be distributed across systems
Similar to e.g. Yahoo mail, but works without Internet.
---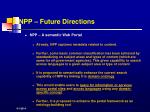 NPP – Future Directions
NPP – A semantic Web Portal

Already, NPP captures metadata related to content.
Further, some basic common classification has been achieved by standardizing on subject areas and types of content (which are same for all government agencies). This gives capability to search across languages in a given subject area or type of content
It is proposed to semantically enhance the current search capability of NPP by linking it to domain ontology
This would enable users to query for information or services across portal sites and across languages using any domain-specific concept
Further, it is proposed to enhance the portal framework as an ontology-building tool
---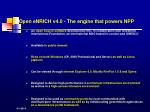 Open eNRICH v4.0 - The engine that powers NPP
An Open Source software developed by NIC, in collaboration with OneWorld International Foundation, an international NGO based in London and UNESCO
Available in public domain
Runs on both Windows (XP, 2000 Professional and Server) as well as Linux platform
Can be viewed through Internet Explorer 6.0, Mozilla FireFox 1.0.6 and Opera
Designed to deliver high performance in a minimum infrastructure environment as well as in a high-access intensive environment
Designed to be used as community portal by rural communities with minimum/poor infrastructure as well as by collaborating government agencies as an e-Governance portal framework
---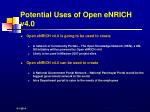 Potential Uses of Open eNRICH v4.0
Open eNRICH v4.0 is going to be used to create

A network of Community Portals – The Open Knowledge Network (OKN), a UN-G8 Initiative will be powered by Open eNRICH v4.0
Likely to be used in Mission 2007 project sites

Open eNRICH v4.0 can be used to create

A National Government Portal Network – National Panchayat Portal would be the biggest government network in the world
Intra Department portal to cater to the needs of the employees
---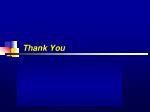 ---