Berry Plastics Liner-less Detergent Cap
---
About Berry Plastics. Leading manufacturer of injection molded packaging in the U.S.Currently working on new product development around liner-less closuresWith the partnership of UD and our sponsor, John Tauber, a new liner-less detergent cap will be designed. Problem Definition. The current cost of polypropylene is rising causing the cap liners to become more and more expensiveThe cost of the liner is now close to 1/3rd of the total cost to make the capA new design is needed to eliminate t30775
Download Presentation
Berry Plastics Liner-less Detergent Cap
An Image/Link below is provided (as is) to download presentation
Download Policy: Content on the Website is provided to you AS IS for your information and personal use only and may not be sold or licensed nor shared on other sites. SlideServe reserves the right to change this policy at anytime.
While downloading, If for some reason you are not able to download a presentation, the publisher may have deleted the file from their server.
- - - - - - - - - - - - - - - - - - - - - - - - - - E N D - - - - - - - - - - - - - - - - - - - - - - - - - -
Presentation Transcript
---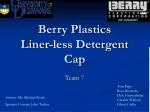 Berry PlasticsLiner-less Detergent Cap
Team 7
Tom Pepe
Ross Rozansky
Dale Heintzelman
Cherish Wilford
Glenn Catlin
Advisor: Dr. Michael Keefe
Sponsor Contact: John Tauber
---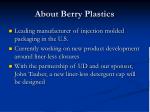 About Berry Plastics
Leading manufacturer of injection molded packaging in the U.S.
Currently working on new product development around liner-less closures
With the partnership of UD and our sponsor, John Tauber, a new liner-less detergent cap will be designed
---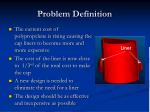 Problem Definition
The current cost of polypropylene is rising causing the cap liners to become more and more expensive
The cost of the liner is now close to 1/3rd of the total cost to make the cap
A new design is needed to eliminate the need for a liner
The design should be as effective and inexpensive as possible
Liner
---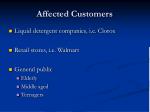 Affected Customers
Liquid detergent companies, i.e. Clorox
Retail stores, i.e. Walmart
General public

Elderly
Middle aged
Teenagers
---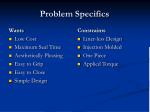 Problem Specifics
Wants
Low Cost
Maximum Seal Time
Aesthetically Pleasing
Easy to Grip
Easy to Close
Simple Design
Constraints
Liner-less Design
Injection Molded
One Piece
Applied Torque
---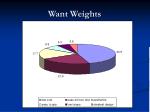 Want Weights
---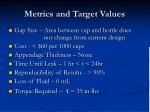 Metrics and Target Values
Gap Size – Area between cap and bottle does not change from current design
Cost - < $60 per 1000 caps
Appendage Thickness – None
Time Until Leak – 1 hr < t < 24hr
Reproducibility of Results - > 90%
Loss of Fluid – 0 mL
Torque Required – τ = 35 in-lbs
---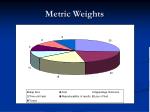 Metric Weights
---
Benchmark Concepts
Solo Cap
XTRA Cap

Type of seal

Wedge seal to spout

component
Fin
Wedge
---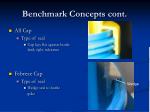 Benchmark Concepts cont.
All Cap

Type of seal

Cap lays flat against bottle land; tight tolerance

Febreze Cap

Type of seal

Wedge seal to bottle

spike
Wedge
---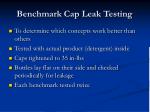 Benchmark Cap Leak Testing
To determine which concepts work better than others
Tested with actual product (detergent) inside
Caps tightened to 35 in-lbs
Bottles lay flat on their side and checked periodically for leakage
Each benchmark tested twice
---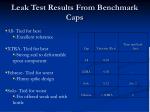 Leak Test Results From Benchmark Caps
All- Tied for best
XTRA- Tied for best

-Strong seal to deformable spout component

Febreze- Tied for worst
Solo- Tied for worst

-Fin offered weak seal with bottle
---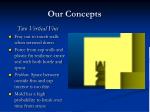 Our Concepts
Two Vertical Fins
Fray out to touch walls when screwed down
Force from cap walls and plastic fin resilience create seal with both bottle and spout
Problem- Space between outside fins and cap interior is too thin
Mold has a high probability to break over time from stress
---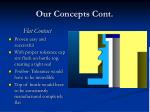 Our Concepts Cont.
Flat Contact
Proven easy and successful
With proper tolerance cap sits flush on bottle top, creating a tight seal
Problem- Tolerance would have to be incredible
Top of bottle would have to be consistently manufactured completely flat
---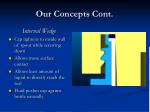 Our Concepts Cont.
Internal Wedge
Cap tightens to inside wall of spout while screwing down
Allows more surface contact
Allows least amount of liquid to directly reach the seal
Fluid pushes cap against bottle naturally
---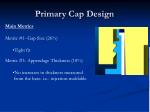 Primary Cap Design
Main Metrics
Metric #1- Gap Size (26%)
Metric #3- Appendage Thickness (18%)

No increases in thickness measured
from the base. i.e.- injection moldable
---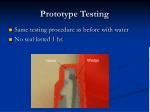 Prototype Testing
Same testing procedure as before with water
No seal lasted 1 hr.
Notch
Wedge
---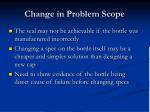 Change in Problem Scope
The seal may not be achievable if the bottle was manufactured incorrectly
Changing a spec on the bottle itself may be a cheaper and simpler solution than designing a new cap
Need to show evidence of the bottle being direct cause of failure before changing specs
---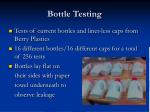 Bottle Testing
Tests of current bottles and liner-less caps from Berry Plastics
16 different bottles/16 different caps for a total of 256 tests
Bottles lay flat on

their sides with paper

towel underneath to

observe leakage
---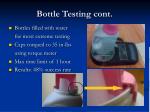 Bottle Testing cont.
Bottles filled with water

for most extreme testing

Caps torqued to 35 in-lbs

using torque meter

Max time limit of 1 hour
Results: 48% success rate
---
Testing Results
Bottles show more consistency
---
Bottle Investigation
Possible Causes of Failure

Bottle land flatness
Wall thickness
Distance from start of thread to bottle land
---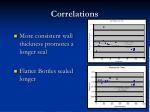 Correlations
More consistent wall thickness promotes a longer seal
Flatter Bottles sealed longer
---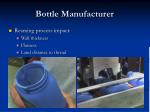 Reaming process impact:
Wall thickness
Flatness
Land distance to thread
Bottle Manufacturer
---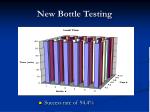 ---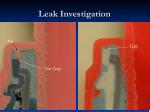 Leak Investigation
Fin
Gap
No Gap
---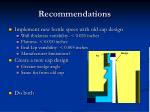 Recommendations
Implement new bottle specs with old cap design

Wall thickness variability- < 0.020 inches
Flatness- < 0.010 inches
End Lip variability- < 0.005 inches
Manufacturer limitations?

Create a new cap design

Greater wedge angle
Same fin from old cap

Do both
Wedge
Fin
---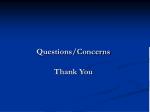 Questions/Concerns Thank You
---