Amphibians as Bioindicators - Tony Li, Michael Ivanov, Jasmine Gallup
---
Amphibians as Bioindicators. Reasons for why amphibians are good bioindicators include:Amphibians breathe through their skin, so they are much more affected by changes to air and water caused by pollution.Amphibians require aquatic habitats for reproduction, so they will be directly affected by ch
Download Presentation
Amphibians as Bioindicators
An Image/Link below is provided (as is) to download presentation
Download Policy: Content on the Website is provided to you AS IS for your information and personal use only and may not be sold or licensed nor shared on other sites. SlideServe reserves the right to change this policy at anytime.
While downloading, If for some reason you are not able to download a presentation, the publisher may have deleted the file from their server.
- - - - - - - - - - - - - - - - - - - - - - - - - - E N D - - - - - - - - - - - - - - - - - - - - - - - - - -
Presentation Transcript
---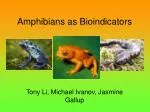 Amphibians as Bioindicators
Tony Li, Michael Ivanov, Jasmine Gallup
---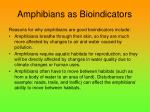 Amphibians as Bioindicators
Reasons for why amphibians are good bioindicators include:
Amphibians breathe through their skin, so they are much more affected by changes to air and water caused by pollution.
Amphibians require aquatic habitats for reproduction, so they will be directly affected by changes in water quality due to climate changes or human uses.
Amphibians often have to move between habitats (such as from a body of water to an area of land). Disturbances (for example: roads, trails, and traffic) can affect the amphibians' ability to move between habitats.
---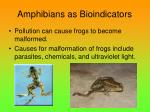 Amphibians as Bioindicators
Pollution can cause frogs to become malformed.
Causes for malformation of frogs include parasites, chemicals, and ultraviolet light.
---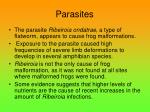 Parasites
The parasite Ribeiroia ondatrae, a type of flatworm, appears to cause frog malformations.
Exposure to the parasite caused high frequencies of severe limb deformations to develop in several amphibian species.
Ribeiroia is not the only cause of frog malformation, as it was not found at all sites where malformed frogs were found.
Some evidence suggests that higher levels of nutrients are the cause of recent increases in the amount of Ribeiroia infections.
---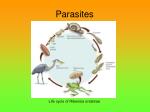 Parasites
Life cycle of Ribeiroia ondatrae
---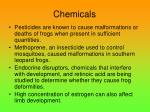 Chemicals
Pesticides are known to cause malformations or deaths of frogs when present in sufficient quantities.
Methoprene, an insecticide used to control mosquitoes, caused malformations in southern leopard frogs.
Endocrine disruptors, chemicals that interfere with development, and retinoic acid are being studied to determine whether they cause frog deformities.
High concentration of estrogen can also affect limb development.
---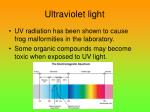 Ultraviolet light
UV radiation has been shown to cause frog malformities in the laboratory.
Some organic compounds may become toxic when exposed to UV light.
---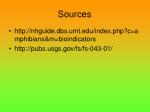 Sources
http://nhguide.dbs.umt.edu/index.php?c=amphibians&m=bioindicators
http://pubs.usgs.gov/fs/fs-043-01/
---