Waste Classification and Waste Management System
---
Waste Classification and Waste Management System . STAKEHOLDER WORKSHOP 30 th JULY 2010. Objectives. DEA Objectives – To report on the success of national waste policy in moving waste up the hierarchy from landfilling to reuse, recycling and recovery
Presentation posted in : General
Download Presentation
Waste Classification and Waste Management System
An Image/Link below is provided (as is) to download presentation
Download Policy: Content on the Website is provided to you AS IS for your information and personal use and may not be sold / licensed / shared on other sites. SlideServe reserves the right to change this policy at anytime.
While downloading, if for some reason you are not able to download a presentation, the publisher may have deleted the file from their server.
- - - - - - - - - - - - - - - - - - - - - - - - - - E N D - - - - - - - - - - - - - - - - - - - - - - - - - -
Presentation Transcript
---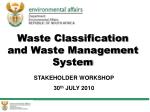 Waste Classification and Waste Management System
STAKEHOLDER WORKSHOP
30th JULY 2010
---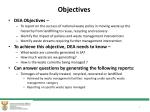 Objectives
DEA Objectives –

To report on the success of national waste policy in moving waste up the hierarchy from landfilling to reuse, recycling and recovery
Identify the impact of policies and waste management interventions
Identify waste streams requiring further management intervention

To achieve this objective, DEA needs to know –

What waste are currently generated in SA?
How much waste are we generating?
How is the waste currently being managed ?

Can answer questions by generating the following reports:

Tonnages of waste finally treated, recycled, recovered or landfilled

Achieved by waste management facilities reporting under specific waste management category
Reporting on specific waste types managed
---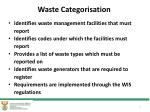 Waste Categorisation
Identifies waste management facilities that must report
Identifies codes under which the facilities must report
Provides a list of waste types which must be reported on
Identifies waste generators that are required to register
Requirements are implemented through the WIS regulations
---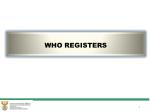 ---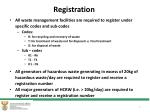 Registration
All waste management facilities are required to register under specific codes and sub-codes

Codes:

R: for recycling and recovery of waste
T: for treatment of waste not for disposal i.e. final treatment
D: for disposal of waste

Sub – codes

All generators of hazardous waste generating in excess of 20kg of hazardous waste/day are required to register and receive a registration number
All major generators of HCRW (i.e. > 20kg/day) are required to register and receive a registration number
---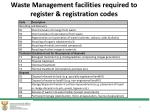 Waste Management facilities required to register & registration codes
---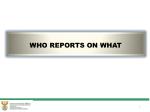 ---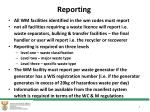 Reporting
All WM facilities identified in the wm codes must report
not all facilities requiring a waste licence will report i.e. waste separators, bulking & transfer facilities – the final handler or user will report i.e. the recycler or recoverer
Reporting is required on three levels

level one – waste classification
Level two – major waste type
Level three – specific waste type

The WM facility must report per waste generator if the generator has a WIS registration number (i.e. if the generator generates in excess of 20kg of hazardous waste per day)
Information will be available from the manifest system which is required in terms of the WC & M regulations
---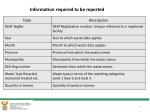 Information required to be reported
---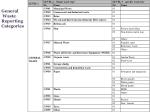 General
Waste Reporting Categories
---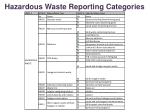 Hazardous Waste Reporting Categories
---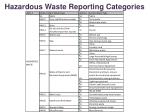 Hazardous Waste Reporting Categories
---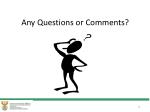 Any Questions or Comments?
---