Manual Transmission Diagnosis and Repair
---
Objectives. Diagnose transmission-related problemsRemove a transmission safely in a professional mannerDisassemble transmissions correctlyUse presses and pullers competently to disassemble and reassemble transmissionsDiagnose and service synchronizersReassemble and install a transmission in a vehicle.
Download Presentation
Manual Transmission Diagnosis and Repair
An Image/Link below is provided (as is) to download presentation
Download Policy: Content on the Website is provided to you AS IS for your information and personal use only and may not be sold or licensed nor shared on other sites. SlideServe reserves the right to change this policy at anytime.
While downloading, If for some reason you are not able to download a presentation, the publisher may have deleted the file from their server.
- - - - - - - - - - - - - - - - - - - - - - - - - - E N D - - - - - - - - - - - - - - - - - - - - - - - - - -
Presentation Transcript
---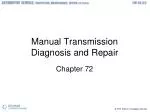 Manual Transmission Diagnosis and Repair
Chapter 72
---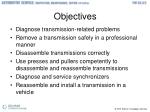 Objectives
Diagnose transmission-related problems
Remove a transmission safely in a professional manner
Disassemble transmissions correctly
Use presses and pullers competently to disassemble and reassemble transmissions
Diagnose and service synchronizers
Reassemble and install a transmission in a vehicle
---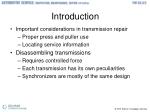 Introduction
Important considerations in transmission repair
Proper press and puller use
Locating service information
Disassembling transmissions
Requires controlled force
Each transmission has its own peculiarities
Synchronizers are mostly of the same design
---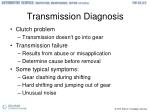 Transmission Diagnosis
Clutch problem

Transmission doesn't go into gear

Transmission failure

Results from abuse or misapplication
Determine cause before removal

Some typical symptoms:

Gear clashing during shifting
Hard shifting and jumping out of gear
Unusual noise
---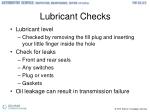 Lubricant Checks
Lubricant level

Checked by removing the fill plug and inserting your little finger inside the hole

Check for leaks

Front and rear seals
Any switches
Plug or vents
Gaskets

Oil leakage can result in transmission failure
---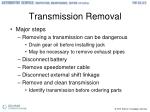 Transmission Removal
Major steps

Removing a transmission can be dangerous

Drain gear oil before installing jack
May be necessary to remove exhaust pipes

Disconnect battery
Remove speedometer cable
Disconnect external shift linkage
Remove and clean transmission

Identify transmission before ordering parts
---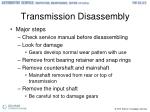 Transmission Disassembly
Major steps

Check service manual before disassembling
Look for damage

Gears develop normal wear pattern with use

Remove front bearing retainer and snap rings
Remove countershaft and mainshaft

Mainshaft removed from rear or top of transmission

Remove the input shaft

Be careful not to damage gears
---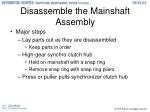 Disassemble the Mainshaft Assembly
Major steps

Lay parts out as they are disassembled
High-gear synchro clutch hub

Held on mainshaft with a snap ring
Remove snap ring with snap ring pliers

Press or puller pulls synchronizer clutch hub
---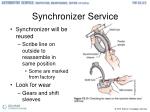 Synchronizer Service
Synchronizer will be reused

Scribe line on outside to reassemble in same position

Some are marked from factory

Look for wear
---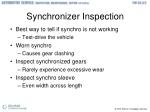 Synchronizer Inspection
Best way to tell if synchro is not working
Worn synchro
Inspect synchronized gears

Rarely experience excessive wear

Inspect synchro sleeve
---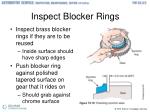 Inspect Blocker Rings
Inspect brass blocker rings if they are to be reused

Inside surface should have sharp edges

Push blocker ring against polished tapered surface on gear that it rides on

Should grab against chrome surface
---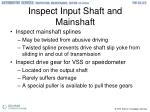 Inspect Input Shaft and Mainshaft
Inspect mainshaft splines

May be twisted from abusive driving
Twisted spline prevents drive shaft slip yoke from sliding in and out of transmission

Inspect drive gear for VSS or speedometer

Located on the output shaft
Rarely suffers damage
A special puller is available to pull these gears
---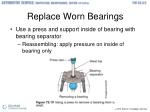 Replace Worn Bearings
Use a press and support inside of bearing with bearing separator

Reassembling: apply pressure on inside of bearing only
---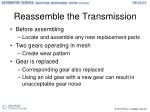 Reassemble the Transmission
Before assembling

Locate and assemble any new replacement parts

Two gears operating in mesh
Gear is replaced

Corresponding gear also replaced
Using an old gear with a new gear can result in unacceptable gear noise
---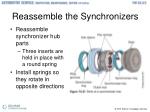 Reassemble the Synchronizers
Reassemble synchronizer hub parts

Three inserts are held in place with a round spring

Install springs so they rotate in opposite directions
---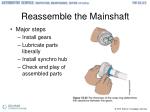 Reassemble the Mainshaft
Major steps

Install gears
Lubricate parts liberally
Install synchro hub
Check end play of assembled parts
---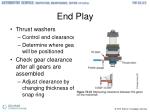 End Play
Thrust washers

Control end clearance
Determine where gear will be positioned

Check gear clearance after all gears are assembled

Adjust clearance by changing thickness of snap ring
---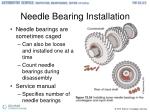 Needle Bearing Installation
Needle bearings are sometimes caged

Can also be loose and installed one at a time
Count needle bearings during disassembly

Service manual

Specifies number of needle bearings
---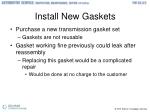 Install New Gaskets
Purchase a new transmission gasket set
Gasket working fine previously could leak after reassembly

Replacing this gasket would be a complicated repair

Would be done at no charge to the customer
---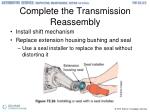 Complete the Transmission Reassembly
Install shift mechanism
Replace extension housing bushing and seal

Use a seal installer to replace the seal without distorting it
---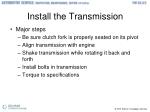 Install the Transmission
Major steps

Be sure clutch fork is properly seated on its pivot
Align transmission with engine
Shake transmission while rotating it back and forth
Install bolts in transmission
Torque to specifications
---
Add Lubricant
Important considerations

Add recommended lubricant before driving the vehicle
Lubricant level should come to bottom of fill hole
---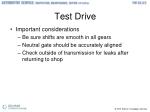 Test Drive
Important considerations

Be sure shifts are smooth in all gears
Neutral gate should be accurately aligned
Check outside of transmission for leaks after returning to shop
---