Santa Rosa County School District
---
Santa Rosa County School District. Surplus Property Management Prepared by: Jesse R. De Leon Surplus Manager. Surplus Property Management. Governing Statutes Property & Non-property items Property Reutilization Disposition Methods. Governing Statutes. Title XVIII, Chapter 274.02(1)
Presentation posted in : General
Download Presentation
Santa Rosa County School District
An Image/Link below is provided (as is) to download presentation
Download Policy: Content on the Website is provided to you AS IS for your information and personal use and may not be sold / licensed / shared on other sites. SlideServe reserves the right to change this policy at anytime.
While downloading, if for some reason you are not able to download a presentation, the publisher may have deleted the file from their server.
- - - - - - - - - - - - - - - - - - - - - - - - - - E N D - - - - - - - - - - - - - - - - - - - - - - - - - -
Presentation Transcript
---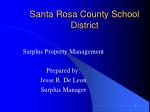 Santa Rosa County School District
Surplus Property Management
Prepared by:
Jesse R. De Leon
Surplus Manager
---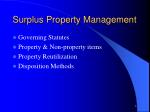 Surplus Property Management
Governing Statutes
Property & Non-property items
Property Reutilization
Disposition Methods
---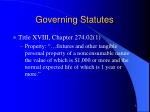 Governing Statutes
Title XVIII, Chapter 274.02(1)

Property: "…fixtures and other tangible personal property of a nonconsumable nature the value of which is $1,000 or more and the normal expected life of which is 1 year or more."
---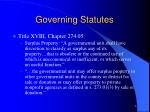 Governing Statutes
Title XVIII, Chapter 274.05

Surplus Property: "A governmental unit shall have discretion to classify as surplus any of its property…that is obsolete or the continued use of which is uneconomical or inefficient, or which serves no useful function."
"…the governmental unit may offer surplus property to other governmental units in the county or district for sale or donation or may offer property to private nonprofit agencies as defined in s. 273.01(3) by sale or donation."
---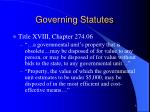 Governing Statutes
Title XVIII, Chapter 274.06

"…a governmental unit's property that is obsolete…may be disposed of for value to any person, or may be disposed of for value without bids to the state, to any governmental unit…"
"Property, the value of which the governmental unit estimates to be under $5,000, may be disposed of in the most efficient and cost-effective means…"
---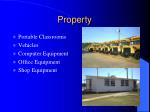 Property
Portable Classrooms
Vehicles
Computer Equipment
Office Equipment
Shop Equipment
---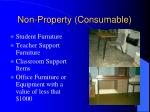 Non-Property (Consumable)
Student Furniture
Teacher Support Furniture
Classroom Support Items
Office Furniture or Equipment with a value of less that $1000
---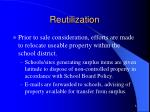 Reutilization
Prior to sale consideration, efforts are made to relocate useable property within the school district.

Schools/sites generating surplus items are given latitude to dispose of non-controlled property in accordance with School Board Policy.
E-mails are forwarded to schools, advising of property available for transfer from surplus.
---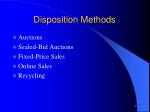 Disposition Methods
Auctions
Sealed-Bid Auctions
Fixed-Price Sales
Online Sales
Recycling
---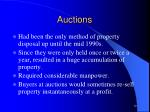 Auctions
Had been the only method of property disposal up until the mid 1990s.
Since they were only held once or twice a year, resulted in a huge accumulation of property.
Required considerable manpower.
Buyers at auctions would sometimes re-sell property instantaneously at a profit.
---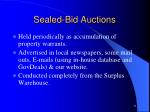 Sealed-Bid Auctions
Held periodically as accumulation of property warrants.
Advertised in local newspapers, some mail outs, E-mails (using in-house database and GovDeals) & our website.
Conducted completely from the Surplus Warehouse.
---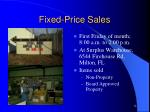 Fixed-Price Sales
First Friday of month; 8:00 a.m. to 2:00 p.m.
At Surplus Warehouse, 6544 Firehouse Rd, Milton, FL
Items sold

Non-Property
Board Approved Property
---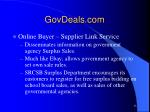 GovDeals.com
Online Buyer – Supplier Link Service

Disseminates information on government agency Surplus Sales.
Much like Ebay; allows government agency to set own sale rules.
SRCSB Surplus Department encourages its customers to register for free surplus bidding on school board sales, as well as sales of other governmental agencies.
---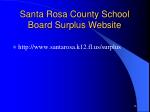 Santa Rosa County School Board Surplus Website
http://www.santarosa.k12.fl.us/surplus
---