Phase Diagrams and Tie Lines - Presentation
---
. Metallurgy Background 2. Lesson ObjectivesWhen you finish this lesson you will understand: Hypo and hyper euctectoid Steels How to calculate the percent of phases present in a Two phase region.. Learning ActivitiesLook up KeywordsView Slides; Read Notes, Listen to lectureView DemoDo on-li
Download Presentation
Phase Diagrams and Tie Lines
An Image/Link below is provided (as is) to download presentation
Download Policy: Content on the Website is provided to you AS IS for your information and personal use only and may not be sold or licensed nor shared on other sites. SlideServe reserves the right to change this policy at anytime.
While downloading, If for some reason you are not able to download a presentation, the publisher may have deleted the file from their server.
- - - - - - - - - - - - - - - - - - - - - - - - - - E N D - - - - - - - - - - - - - - - - - - - - - - - - - -
Presentation Transcript
---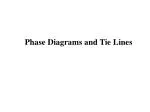 Phase Diagrams and Tie Lines
---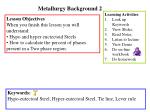 Metallurgy Background 2
Learning Activities
Look up Keywords
View Slides;
Read Notes,
Listen to lecture
View Demo
Do on-line workbook
Do homework
Lesson Objectives
When you finish this lesson you will understand:
Hypo and hyper euctectoid Steels
How to calculate the percent of phases present in a Two phase region.
Keywords:
Hypo-eutectoid Steel, Hyper-eutectoid Steel, Tie line, Lever rule
---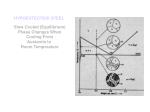 HYPOEUTECTOID STEEL
Slow Cooled (Equilibrium)
Phase Changes When
Cooling From
Austenite to
Room Temperature
---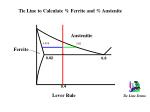 Tie Line to Calculate % Ferrite and % Austenite
Austenitie
Ferrite
Lever Rule
Tie Line Demo
---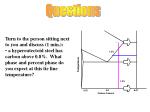 Questions
Turn to the person sitting next to you and discuss (1 min.):
a hypereutectoid steel has carbon above 0.8%. What phase and percent phase do you expect at this tie line temperature?
---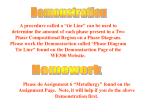 Demonstration
A procedure called a "tie Line" can be used to determine the amount of each phase present in a Two Phase Compositional Region on a Phase Diagram. Please work the Demonstartion called "Phase Diagram Tie Line" found on the Demonstartion Page of the WE300 Website.
Homework
Please do Assignment 6 "Metallurgy" found on the Assignment Page. Note, it will help if you do the above Demonstration first.
---