Know about Descubrimiento De Puerto Rico
---
Alineacin Curricular. Tema: Descubrimiento de Puerto Rico Unidad
Download Presentation
Descubrimiento De Puerto Rico
An Image/Link below is provided (as is) to download presentation
Download Policy: Content on the Website is provided to you AS IS for your information and personal use only and may not be sold or licensed nor shared on other sites. SlideServe reserves the right to change this policy at anytime.
While downloading, If for some reason you are not able to download a presentation, the publisher may have deleted the file from their server.
- - - - - - - - - - - - - - - - - - - - - - - - - - E N D - - - - - - - - - - - - - - - - - - - - - - - - - -
Presentation Transcript
---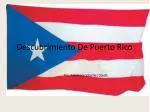 Descubrimiento De Puerto Rico
Por: Fresmary Sánchez Ojeda
Por: Fresmary Sánchez Ojeda
---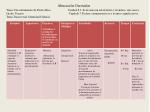 Alineación Curricular
Tema: Descubrimiento de Puerto Rico Unidad # 2: Se levanta un árbol fuerte y frondoso: mis raíces.
Grado: Tercero Capítulo 7:Fechas conmemorativas y eventos significativos.
Tema Transversal: Identidad Cultural
---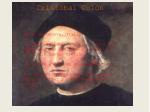 Cristóbal Colón
Nació en Génova, Italia.
Defendió la idea de que la tierra era redonda. Esto lo llevó a navegar y a descubrir nuevas tierras.
Descubrió a P.R. en su segundo viaje.
Sus descubrimientos marcaron la ruta para colonizar y conquistar nuevos mundos.
---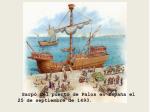 Sarpó del puerto de Palos en España el 25 de septiembre de 1493.
---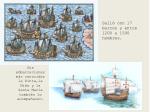 Salió con 17 barcos y entre 1200 a 1500 hombres.
Sus embarcaciones más conocidas la Pinta,la Niña y la Santa María también lo acompañaron.
---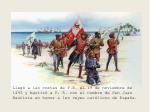 Llegó a las costas de P.R. el 19 de noviembre de 1493 y bautizó a P. R. con el nombre de San Juan Bautista en honor a los reyes católicos de España.
---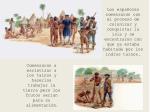 Los españoles comenzaron con el proceso de colonizar y conquistar la isla y se encontraron con que ya estaba habitada por los indios taínos.
Comenzaron a esclavizar a los taínos y hacerlos trabajar la tierra pero los frutos serían para su alimentación.
---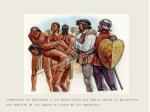 Comenzaron los maltratos y los abusos hacia los indios taínos lo que provocó
una rebelión de los indios en contra de los españoles.
---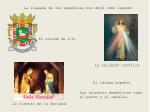 La llegada de los españoles nos dejó como legado:
El escudo de P.R.
La religión católica
El idioma español
Los animales domésticos como
el perro y el caballo.
La fiestas de la Navidad
---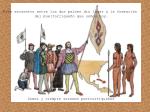 Este encuentro entre los dos países dio lugar a la formación
del puertorriqueño que somos hoy.
Somos y siempre seremos puertorriqueños
---