Gynaecology cases - Rehan Salim MD MRCOGConsultant Gynaecologist
---
Case 1. 34 year oldIrregular periodsNo significant gynaecological problems3 day history of pelvic pain. Case 1. Observations normalUrinalysis normal. Pregnancy test positiveEctopic pregnancy unless proven otherwise. Case 1. Ultrasound scanNo evidence of intrauterine or extrauterine pregnancyB
Download Presentation
Gynaecology cases
An Image/Link below is provided (as is) to download presentation
Download Policy: Content on the Website is provided to you AS IS for your information and personal use only and may not be sold or licensed nor shared on other sites. SlideServe reserves the right to change this policy at anytime.
While downloading, If for some reason you are not able to download a presentation, the publisher may have deleted the file from their server.
- - - - - - - - - - - - - - - - - - - - - - - - - - E N D - - - - - - - - - - - - - - - - - - - - - - - - - -
Presentation Transcript
---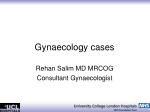 Gynaecology cases
Rehan Salim MD MRCOG
Consultant Gynaecologist
---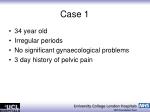 Case 1
34 year old
Irregular periods
No significant gynaecological problems
3 day history of pelvic pain
---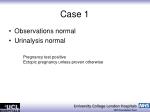 Case 1
Observations normal
Urinalysis normal
Pregnancy test positive
Ectopic pregnancy unless proven otherwise
---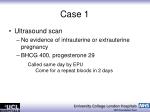 Case 1
Ultrasound scan

No evidence of intrauterine or extrauterine pregnancy
BHCG 400, progesterone 29
Called same day by EPU

Come for a repeat bloods in 2 days
---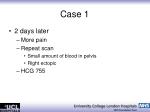 Case 1
2 days later

More pain
Repeat scan

Small amount of blood in pelvis
Right ectopic

HCG 755
---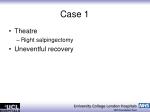 Case 1
Theatre
Uneventful recovery
---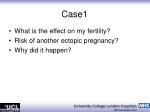 Case1
What is the effect on my fertility?
Risk of another ectopic pregnancy?
Why did it happen?
---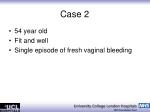 Case 2
54 year old
Fit and well
Single episode of fresh vaginal bleeding
---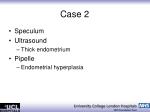 Case 2
Speculum
Ultrasound
Pipelle
---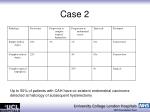 Case 2
Up to 50% of patients with CAH have co-existent endometrial carcinoma detected at histology of subsequent hysterectomy
---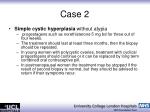 Case 2
Simple cystic hyperplasia without atypia

progestagens such as norethisterone 5 mg bd for three out of four weeks.
The treatment should last at least three months, then the biopsy should be repeated.
In young women with polycystic ovaries, treatment with cyclical progestogens should continue or it can be replaced by long term combined oral contraceptive pill.
In postmenopausal women the treatment may be stopped if the result of second biopsy is normal, but they should be advised to return if their symptoms recur.
---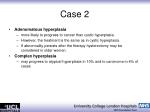 Case 2
Adenomatous hyperplasia

more likely to progress to cancer than cystic hyperplasia.
However, the treatment is the same as in cystic hyperplasia.
If abnormality persists after the therapy hysterectomy may be considered in older women.

Complex hyperplasia

may progress to atypical hyperplasia in 10% and to carcinoma in 4% of cases
---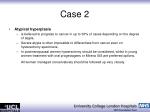 Case 2
Atypical hyperplasia

is believed to progress to cancer in up to 30% of cases depending on the degree of atypia.
Severe atypia is often impossible to differentiate from cancer even on hysterectomy specimens.
In postmenopausal women hysterectomy should be considered, whilst in young women treatment with oral progestagens or Mirena IUS are preferred options. All women managed conservatively should be followed up very closely.
---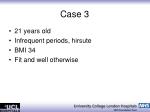 Case 3
21 years old
Infrequent periods, hirsute
BMI 34
Fit and well otherwise
---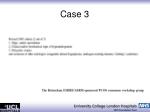 Case 3
---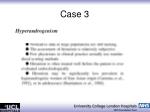 Case 3
---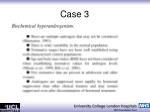 Case 3
---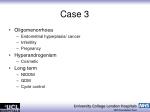 Case 3
Oligomenorrhoea

Endometrial hyperplasia/ cancer
Infertility
Pregnancy

Hyperandrogenism
Long term
---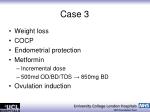 Case 3
Weight loss
COCP
Endometrial protection
Metformin

Incremental dose
500md OD/BD/TDS → 850mg BD

Ovulation induction
---