Chapter 10 Nutrients, Physical Activity, and the Body's Responses
---
Chapter 10 Nutrients, Physical Activity, and the Body's Responses. Nutrition : Concepts & Controversies, 12e Sizer/Whitney. Introduction. Physical activity and nutrition Needs Energy-yielding nutrients Vitamins and minerals Results Regulation of energy-yielding nutrients
Presentation posted in : General
Download Presentation
Chapter 10 Nutrients, Physical Activity, and the Body's Responses
An Image/Link below is provided (as is) to download presentation
Download Policy: Content on the Website is provided to you AS IS for your information and personal use and may not be sold / licensed / shared on other sites. SlideServe reserves the right to change this policy at anytime.
While downloading, if for some reason you are not able to download a presentation, the publisher may have deleted the file from their server.
- - - - - - - - - - - - - - - - - - - - - - - - - - E N D - - - - - - - - - - - - - - - - - - - - - - - - - -
Presentation Transcript
---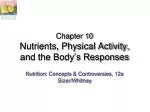 Chapter 10Nutrients, Physical Activity, and the Body's Responses
Nutrition: Concepts & Controversies, 12e Sizer/Whitney
---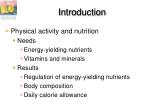 Introduction
Physical activity and nutrition

Needs

Energy-yielding nutrients
Vitamins and minerals

Results

Regulation of energy-yielding nutrients
Body composition
Daily calorie allowance
---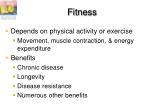 Fitness
Depends on physical activity or exercise

Movement, muscle contraction, & energy expenditure

Benefits

Chronic disease
Longevity
Disease resistance
Numerous other benefits
---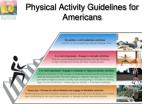 Physical Activity Guidelines for Americans
---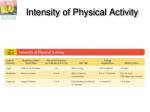 Intensity of Physical Activity
---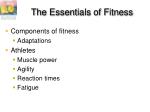 The Essentials of Fitness
Components of fitness
Athletes

Muscle power
Agility
Reaction times
Fatigue
---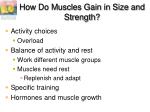 How Do Muscles Gain in Size and Strength?
Activity choices
Balance of activity and rest

Work different muscle groups
Muscles need rest

Specific training
Hormones and muscle growth
---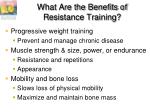 What Are the Benefits of Resistance Training?
Progressive weight training

Prevent and manage chronic disease

Muscle strength & size, power, or endurance

Resistance and repetitions
Appearance

Mobility and bone loss

Slows loss of physical mobility
Maximize and maintain bone mass
---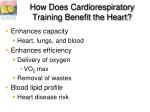 How Does Cardiorespiratory Training Benefit the Heart?
Enhances capacity
Enhances efficiency

Delivery of oxygen
Removal of wastes

Blood lipid profile
---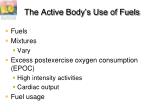 The Active Body's Use of Fuels
Fuels
Mixtures
Excess postexercise oxygen consumption (EPOC)

High intensity activities
Cardiac output

Fuel usage
---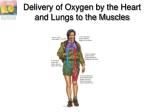 Delivery of Oxygen by the Heart and Lungs to the Muscles
---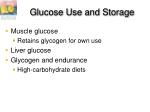 Glucose Use and Storage
Muscle glucose

Retains glycogen for own use

Liver glucose
Glycogen and endurance
---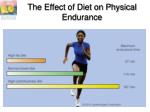 The Effect of Diet on Physical Endurance
---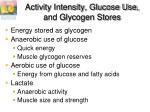 Activity Intensity, Glucose Use, and Glycogen Stores
Energy stored as glycogen
Anaerobic use of glucose

Quick energy
Muscle glycogen reserves

Aerobic use of glucose

Energy from glucose and fatty acids

Lactate

Anaerobic activity
Muscle size and strength
---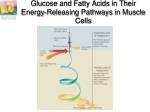 Glucose and Fatty Acids in Their Energy-Releasing Pathways in Muscle Cells
---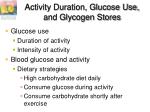 Activity Duration, Glucose Use, and Glycogen Stores
Glucose use

Duration of activity
Intensity of activity

Blood glucose and activity

Dietary strategies

High carbohydrate diet daily
Consume glucose during activity
Consume carbohydrate shortly after exercise
---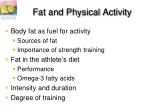 Fat and Physical Activity
Body fat as fuel for activity

Sources of fat
Importance of strength training

Fat in the athlete's diet

Performance
Omega-3 fatty acids

Intensity and duration
Degree of training
---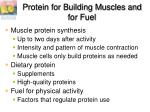 Protein for Building Muscles and for Fuel
Muscle protein synthesis

Up to two days after activity
Intensity and pattern of muscle contraction
Muscle cells only build proteins as needed

Dietary protein

Supplements
High-quality proteins

Fuel for physical activity

Factors that regulate protein use
---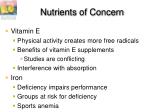 Nutrients of Concern
Vitamin E

Physical activity creates more free radicals
Benefits of vitamin E supplements
Interference with absorption

Iron

Deficiency impairs performance
Groups at risk for deficiency
Sports anemia
---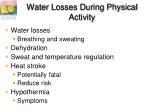 Water Losses During Physical Activity
Water losses
Dehydration
Sweat and temperature regulation
Heat stroke

Potentially fatal
Reduce risk

Hypothermia
---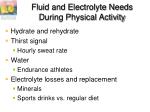 Fluid and Electrolyte Needs During Physical Activity
Hydrate and rehydrate
Thirst signal
Water
Electrolyte losses and replacement

Minerals
Sports drinks vs. regular diet
---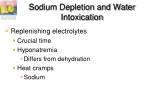 Sodium Depletion and Water Intoxication
Replenishing electrolytes

Crucial time
Hyponatremia
Heat cramps
---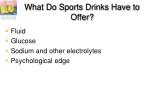 What Do Sports Drinks Have to Offer?
Fluid
Glucose
Sodium and other electrolytes
Psychological edge
---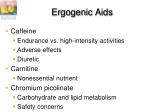 Ergogenic Aids
Caffeine

Endurance vs. high-intensity activities
Adverse effects
Diuretic

Carnitine
Chromium picolinate

Carbohydrate and lipid metabolism
Safety concerns
---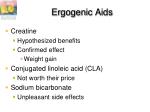 Ergogenic Aids
Creatine

Hypothesized benefits
Confirmed effect

Conjugated linoleic acid (CLA)
Sodium bicarbonate
---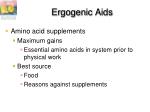 Ergogenic Aids
Amino acid supplements

Maximum gains

Essential amino acids in system prior to physical work

Best source

Food
Reasons against supplements
---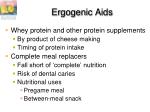 Ergogenic Aids
Whey protein and other protein supplements

By product of cheese making
Timing of protein intake

Complete meal replacers

Fall short of 'complete' nutrition
Risk of dental caries
Nutritional uses

Pregame meal
Between-meal snack
---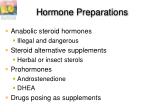 Hormone Preparations
Anabolic steroid hormones
Steroid alternative supplements
Prohormones
Drugs posing as supplements
---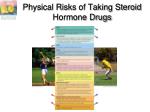 Physical Risks of Taking Steroid Hormone Drugs
---