The Puritans and the Quakers - Pgs. 206-207 and 215-216
---
The Puritans - 1628. Approximately 10 years after the Pilgrims came to America for religious freedom, another group seeking religious freedom settled around the Massachusetts Bay near Boston.This group called themselves Puritans because they wanted their religion to be more
Download Presentation
The Puritans and the Quakers
An Image/Link below is provided (as is) to download presentation
Download Policy: Content on the Website is provided to you AS IS for your information and personal use only and may not be sold or licensed nor shared on other sites. SlideServe reserves the right to change this policy at anytime.
While downloading, If for some reason you are not able to download a presentation, the publisher may have deleted the file from their server.
- - - - - - - - - - - - - - - - - - - - - - - - - - E N D - - - - - - - - - - - - - - - - - - - - - - - - - -
Presentation Transcript
---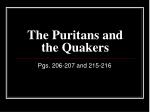 The Puritans and the Quakers
Pgs. 206-207 and 215-216
---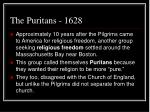 The Puritans - 1628
Approximately 10 years after the Pilgrims came to America for religious freedom, another group seeking religious freedom settled around the Massachusetts Bay near Boston.
This group called themselves Puritans because they wanted their religion to be more "pure."
They too, disagreed with the Church of England, but unlike the Pilgrims did not separate from the church.
---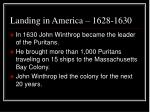 Landing in America – 1628-1630
In 1630 John Winthrop became the leader of the Puritans.
He brought more than 1,000 Puritans traveling on 15 ships to the Massachusetts Bay Colony.
John Winthrop led the colony for the next 20 years.
---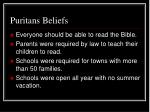 Puritans Beliefs
Everyone should be able to read the Bible.
Parents were required by law to teach their children to read.
Schools were required for towns with more than 50 families.
Schools were open all year with no summer vacation.
---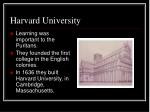 Harvard University
Learning was important to the Puritans.
They founded the first college in the English colonies.
In 1636 they built Harvard University, in Cambridge, Massachusetts.
---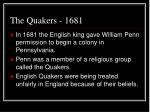 The Quakers - 1681
In 1681 the English king gave William Penn permission to begin a colony in Pennsylvania.
Penn was a member of a religious group called the Quakers.
English Quakers were being treated unfairly in England because of their beliefs.
---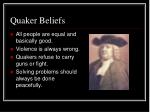 Quaker Beliefs
All people are equal and basically good.
Violence is always wrong.
Quakers refuse to carry guns or fight.
Solving problems should always be done peacefully.
---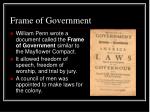 Frame of Government
William Penn wrote a document called the Frame of Government similar to the Mayflower Compact.
It allowed freedom of speech, freedom of worship, and trial by jury.
A council of men was appointed to make laws for the colony.
---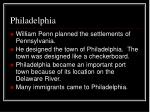 Philadelphia
William Penn planned the settlements of Pennsylvania.
He designed the town of Philadelphia. The town was designed like a checkerboard.
Philadelphia became an important port town because of its location on the Delaware River.
Many immigrants came to Philadelphia.
---