IRRIGACION DEL CEREBRO - PowerPoint Slideshow
---
Cayado de la Aorta. Tronco Braquiocef
Download Presentation
IRRIGACION DEL CEREBRO
An Image/Link below is provided (as is) to download presentation
Download Policy: Content on the Website is provided to you AS IS for your information and personal use only and may not be sold or licensed nor shared on other sites. SlideServe reserves the right to change this policy at anytime.
While downloading, If for some reason you are not able to download a presentation, the publisher may have deleted the file from their server.
- - - - - - - - - - - - - - - - - - - - - - - - - - E N D - - - - - - - - - - - - - - - - - - - - - - - - - -
Presentation Transcript
---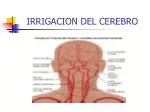 IRRIGACION DEL CEREBRO
---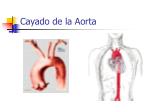 Cayado de la Aorta
---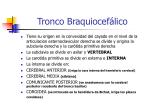 Tronco Braquiocefálico
Tiene su origen en la convexidad del cayado en el nivel de la articulacion esternoclavicular derecha se divide y origina la subclavia derecha y la carótida primitiva derecha
La subclavia se divide en axilar y VERTEBRAL
La carotida primitiva se divide en externa e INTERNA
La interna se divide en:
CEREBRAL ANTERIOR (Irriga la cara interna del hemisferio cerebral)
CEREBRAL MEDIA (silviana)
COMUNICANTE POSTERIOR (se anastomosa con la cerabral posterior rocedente del tronco basilar)
COROIDEA (se introcude en la hendidura de Bichat, irriga los plexos coroideos)
---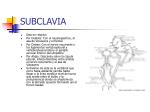 SUBCLAVIA
Esta en relacion
Por Delante: Con el neumogastrico, el asa de Vicussens y el frénico
Por Detras: Con el nervio recurrente y los ligamentos vertebropleural y vertebropleurocostal y el ganglio cervical inferior del simpático
Por Abajo: Descansa sobre la cúpula pleural, interponiendose entre ambas el nervio recurrente y el asa de Vieussens
la division de esta es la vertebral que corre hacia adelante yarriba hasta llegar a la linea media a nivel del surco que existe entre el bulbo y la protuberancia donde se anastomosa con la del lado opuesto formando asi el tronco basilar.
---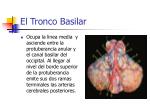 El Tronco Basilar
Ocupa la linea media y asciende entre la protuberancia anular y el canal basilar del occipital. Al llegar al nivel del borde superior de la protuberancia emite sus dos ramas terminales las arterias cerebrales posteriores.
---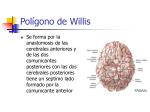 Polígono de Willis
Se forma por la anastomosis de las cerebrales anteriores y de las dos comunicantes posteriores con las dos cerebrales posteriores tiene un septimo lado formado por la comunicante anterior
---